M8 rejects Harb's suggestions for cabinet policy statement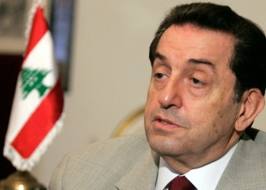 In an effort to end the impasse over the cabinet policy statement, Telecommunications Minister Boutros Harb suggested new formulas during the last meeting of the committee charged with drafting he statement , but his suggestions were rejected by the March 8 members of the committee, Al-Joumhouria newspaper reported on Wednesday.
The issue revolves around Hezbollah's role in defending Lebanon against Israel in the aftermath of its controversial role in Syria .
Harb suggested to mention the resistance as follows: "The government holds onto the right of its army and all people to resist Israeli occupation and confront attacks" but Minister Ali Hasan Khalil who represents speaker Nabih Berri, a close ally of Hezbollah rejected the statement which he described as "muddled."
Harb also made another suggestion: " The government holds onto the right of the state, supported by the Lebanese, to resist occupation" but it was also rejected by the March 8 members of the committee.
March 8 ministers reportedly refused Harb's suggestion because "it does not give independence in facing Israeli assaults to the resistance as an entity."
The ministers also said that Harb's suggestion "harms the resistance's identity and culture."
The committee charged with drafting the new government's policy statement failed again on Tuesday to agree on a draft that meets the demands of the rival March 8 and 14 camps and for this reason it decided to refer the issue to the cabinet, which will convene on Thursday to take the appropriate stance on the matter, said the PM's office.
Labor Minister Sejaan Qazzi told reporters after the committee's tenth meeting: "Hezbollah is still insisting that the resistance be granted freedom of mobility and action away from the authority of the state."
President Suleiman and the March 14 alliance want the Baabda Declaration to be the basis for the policy statement, but the Hezbollah-led March 8 camp is insisting on basing the policy on the so called resistance formula: People + army + resistance. Resistance here means Hezbollah.
March 14's suggested formula is "Lebanon's right to defend itself,"
The new 24-minister cabinet, formed after more than months of political bickering, has been trying to formulate the ministerial policy statement to present to the parliament for a vote of confidence.
The Baabda Declaration was adopted in June 2012 during a national dialogue session headed by Suleiman and attended by the rival March 8 and 14 camps. All ( including Hezbollah) agreed to distance Lebanon from regional and international conflicts. The participants also all agreed to back the Lebanese army both financially and morally as the guarantor of civil peace and national unity.