Israel: 40 rockets 160 km range found on Iran ship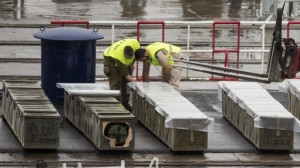 Israel's army said on Sunday it had discovered 40 rockets with a range of 160 kilometers on a ship allegedly transporting arms from Iran to Palestine's Gaza Strip.
The military said it intercepted and seized the Klos-C ship on Wednesday in the Red Sea between Eritrea and Sudan – which had a Panamanian-flag – and escorted it to the Red Sea port of Eilat.
Upon arrival at the port, it was inspected on Sunday and unloaded in an operation named "Full Disclosure."
A statement said security forces searching the Klos-C had found "40 rockets (type M-302), up to the range of 160 kilometres, 181 122mm mortar shells, approximately 400,000 7.62-calibre rounds," Agence France-Presse reported.
"Each one of these rockets poses a threat to the safety of the citizens of Israel – each bullet and each rocket that was discovered had an Israeli address," army chief Lieutenant General Benny Gantz told sailors who took part in the operation.
Iranian denial
The unloading and inspection of containers was carried out by a combined task-force from various units including the Israeli Navy, the Combat Engineering Corp and the Ordnance Corps, the army said.
Iran has so far denied any involvement with the shipment.
However, Israeli Prime Minister Benjamin Netanyahu on Sunday accused the Islamic Republic of "brazenly lying."
Israel has used the interception to bolster claims that Iran remains dangerous and that world powers – including the U.S. – should break off negotiations with Tehran over the country's nuclear program.
Al Arabiya