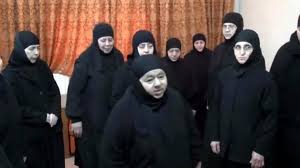 Lebanon's top political and religious leaders hailed the release of the Lebanese and Syrian nuns and expressed their hope that the two bishops who were abducted in Aleppo last year will be released as well as soon as possible.
President Michel Suleiman thanked Qatar's Emir, Sheikh Tamim bin Hamad al-Thani, for Doha's role in the release in Syria of the 13 Greek Orthodox nuns and their 3 maids and expressed hope that Bishops Boulos Yazigi and Yuhanna Ibrahim be released as well in the near future.
Speaker Nabih Berri phoned Greek Orthodox Patriarch of Antioch and All the East Yuhanna X Yazigi to congratulate him for the "safe return of the nuns."
He also thanked General Security chief Abbas Ibrahim for his efforts in freeing of the hostages.
Lebanon's Maronite Patriarch Cardinal Beshara Boutros al-Rai congratulated Yazigi for the success of the hostages swap operation.
He expressed his gratitude for Ibrahim's efforts and those of the Qatari mediators, and voiced his hope that these endeavors would persist until the kidnapped archbishops be release as well.
Phalange MP Sami Gemayel also hailed the release of the Maalula nuns, hoping that it will pave the way for the release of the Lebanese imprisoned and kidnapped in Syria.
Hundreds of Lebanese were kidnapped during Syria's military occupation of Lebanon and they remain in Syrian jails.
PSP chief MP Walid Jumblatt also hailed the release of the Maalula nuns. He called for ending all abductions and demanded that abduction gangs in Lebanon be arrested.
The nuns and three maids were released and turned over to Syrian authorities around midnight Sunday.
They arrived after midnight at the regime-held town of Jdeidet Yabus near the border with Lebanon. They were exhausted but praised those who negotiated their release.
"We want to thank God, who made it possible for us to be here now," one nun told reporters.
The nun said all 16 hostages were treated "well" in captivity.
The kidnappers, Islamist fighters from the Al-Qaeda-affiliated Al-Nusra Front, "were giving us everything we asked for", she said , adding " They treated us with respect, kindness and high manners."
"No one bothered us," she added, denying rumors their kidnappers had forced the group of Syrian and Lebanese nuns to remove their crosses.
The nuns will be officially welcomed home Monday at the Greek Orthodox Patriarchate in Damascus.
A monitoring group said the release was secured in exchange for 158 Syrian women prisoners who were being held in jail by the Syrian regime.
Some unconfirmed reports claimed that a ransom was paid in exchange for the release of the nuns but this was denied by Ibrahim.
The nuns and maids were kidnapped from the famed Christian hamlet of Maalula in December and taken to the nearby rebel-held town of Yabrud, where they were held by Al-Qaeda affiliated Al-Nusra Front.
Meanwhile, Archbishop Yuhanna Ibrahim -head of the Syriac Orthodox Church in Aleppo- and Archbishop Boulos Yazigi -head of the Greek Orthodox Church in Aleppo- remain hostages after they were kidnapped in a village in northern Syria in late April 2013.