Egypt: Iran missiles were for Sinai or Gaza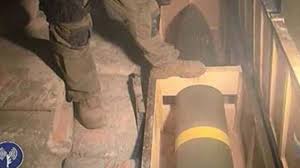 A senior security official in Egypt says a missile shipment seized by Israel last week was destined for militants in either the Sinai Peninsula or the Gaza Strip.
Israel says the shipment came from Iran, which the Islamic Republic denies.
The official said Sunday the missiles have a range of 90 kilometers (60 miles) and the ship carrying them was under surveillance while it was off Sudan's Red Sea coast. He said the ship took the same route used by vessels ferrying potential illegal migrants who arrive in Sinai and then sneak across the border into Israel.
Hamas, the militant Islamic group ruling Gaza, says it was not involved in the seized missiles.
The Sinai-based official spoke on condition of anonymity because he was not authorized to speak to journalists.
Associated press