Hezbollah flags waived outside the AIPAC conference in D.C.
Internationally designated terrorist group Hezbollah was represented outside the AIPAC policy conference in Washington, D.C. on Sunday, by two Americans waving its flag.
While a small group of protesters were waving Palestinian Authority flags and holding placards condemning Israel, as at some other public Jewish and Israeli events, AIPAC delegates said they were horrified to see the Hezbollah flag, which is a rare sight.
Pointing to the band of protesters at the convention center entrance, Ilan Weinglass, Executive Director of the American Center for Democracy & Economic Warfare Institute, said, "What they're doing over there is legal, First Amendment, fine, but this is different."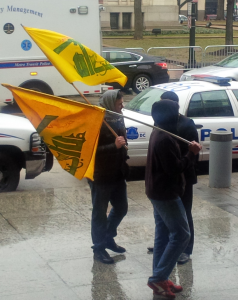 "Hezbollah is a terrorist organization, which is not legal, and while waving their flag might not be illegal, it is certainly something we should worry about," Weinglass said. "Waving their flag can be like a gateway to taking part in real terror, and that we must object to."
The two young men carrying the flags were not Lebanese, but American, and while they declined to be interviewed, one made a comment when asked why he chose to recreate, apparently with magic marker on yellow cloth, the Hezbollah flag.
"Well you know, it's the only real answer that Israel understands," the Hezbollah flag waiver said.
When an AIPAC delegate, who declined to be named for publication, asked the flag waver his reasoning behind his statement, he was told: "Israel invaded Lebanon, so Hezbollah is the resistance."
A county sheriff standing by said that the flag wasn't illegal, but he recognized that it was rare to see the Hezbollah colors outside an Israel related event.
Indeed, Jason Epstein, from Southfive Strategies, a public policy consultancy, said he's been attending the AIPAC annual event since the early 1990s, and this was the very first time he saw a Hezbollah flag at the convention.
"I expect to see the usual crazies… across the street, but this is taking it to a new low because of what Hezbollah represents," Epstein said.
Watch a video clip of the Hezbollah flag being waved outside the AIPAC Policy Conference.
Algemeiner