McCain Tells Obama How to Punish Putin, interview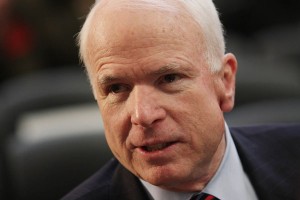 In an exclusive interview with the daily Beast , United States Senator John McCain identifies several ways the U.S. could respond to Vladimir Putin's decision to move Russian troops into Ukraine.
President Obama promised Friday there would be "costs" if Russia moved troops into Ukraine, but he didn't specify what those costs might be. Sen. John McCain has several suggestions for Obama, including the sanctioning of high-level Russian officials; restarting missile defense plans in Eastern Europe; and bringing Georgia, a former Soviet republic, into NATO. McCain plans to push from the Congressional side, he told The Daily Beast in an exclusive interview Saturday evening.
McCain wants the administration to expand its threat to pull out of the G8 Summit in Sochi scheduled for June. That limited move is unlikely to convince Putin to give up his control of Crimea, where Russia has its 15,000-man strong Black Sea Fleet and where unmarked but Russian-controlled paramilitary troopscontrol the two main airports.
"I think Obama's threat is laughable," McCain said. "But I think we ought to do it and every other international gathering of leaders, because the one thing that Putin enjoys is strutting on the international stage."
McCain added that former Secretary of State Hillary Clinton — who inaugurated the Obama administration's "reset" of relations with Russia in 2009 — had totally misjudged Russia.
"Of course she got it wrong," said McCain. "She believed that somehow there would be a reset with a guy who was a KGB colonel who always had ambitions to restore the Russian empire. That's what this is all about."
Next, McCain wants the administration to more broadly apply a law that enables the U.S. government to sanction Russian officials guilty of human rights violations. The Sergei Magnitsky Rule of Law and Accountability Act, which Obama signed into law in 2012, has so far only been used against low-level Russian officials. But McCain said that if top Russian officials were involved in the decision to send troops into Ukraine, they should be added to the list as well, which would subject them to visa bans, asset freezes, and international scorn.
"We must consider legislation to respond to this," McCain said. "The Magnitsky bill can be expanded for holding people responsible for these acts of aggression."
Senate Foreign Relations Committee ranking Republican Bob Corker also calledSaturday for targeted sanctions against senior Russian officials. McCain said additional economic sanctions against Russia writ large were also called for.
After that, McCain wants the Obama administration to reverse its decision to scuttle missile defense plans for Eastern Europe, plans that Putin objected to strongly. The Obama administration claimed that its decision to scrap the plans was not a concession to Russia, but it came at a time when Obama wanted to work with Russia on further reducing nuclear-weapon stockpiles. Such cooperation now seems far-fetched.
Lastly, McCain argues that the Obama administration should work with NATO to speed up the process through which Georgia (invaded by Russia in 2008) could move towards joining the defense alliance. It's an unlikely move, but Georgia has been seeking an interim step called MAP status. But that effort has been hampered by the fact that Russia occupies two Georgian territories. Ukraine, which voluntarily withdrew from NATO consideration years ago, might now have more incentive to join the alliance, McCain said.
McCain stresses that there is no U.S. military option for responding to Russian aggression in Ukraine, nor should there be. NATO response is not a viable option, and the Ukrainians can't fight the Russians on their own, he said.
"The reality is that they do not have the military capability to stand up to Russia. That's just a fact. I'm sure they know that," he said.
McCain is also amazed at what he sees as the Obama administration's total lack of foresight that Russia would have moved troops into Ukraine. As of Thursday evening, U.S. intelligence officials were saying they saw no evidence that Russia was planning a military intervention in Ukraine. On Friday morning, Secretary of State John Kerry said he had received assurances from Russian Foreign Minister Sergei Lavrov that Moscow would not do anything that could even be misconstrued as a military intervention.
"Kerry's statement was laugh out loud ridiculous, if it wasn't so serious," said McCain. "This is prima facia evidence of the delusional attitude that the administration had toward Vladimir Putin."
By Friday afternoon, President Obama was warning Putin publicly to withdraw his forces from Ukraine. (Director of National Intelligence James Clapper held a classified briefing for senators on the situation the same day.) Saturday morning, top members of Obama's national security team met at the White House to consider policy options for Ukraine. Obama did not attend, but Clapper, Defense Secretary Chuck Hagel, and Chairman of the Joint Chiefs of Staff Martin Dempsey were seen leaving the White House following the meeting.
"I think it's very clear that this whole operation took this administration and the intelligence community by surprise, but it shouldn't have," said McCain.
The White House put out a statement Saturday afternoon reading out Obama's 90-minute phone call with Putin on Ukraine from Saturday. The White House statement didn't specify any "costs" for Russia besides suspending preparatory meetings for the G8 summit in Sochi.
"President Obama made clear that Russia's continued violation of Ukraine's sovereignty and territorial integrity would negatively impact Russia's standing in the international community," the White House said. "Going forward, Russia's continued violation of international law will lead to greater political and economic isolation."
McCain said Obama has not spoken out strongly enough against Russian behavior.
"He should publicly condemn this behavior which is worthy of the gangster label," he said. "This is a page out of the old Soviet playbook. Send your paramilitary troops and FSB and foment disorder. And then of course the Russians will say they have to come in and restore order. It's the old playbook, the old KGB Colonel Putin at work again."
The Daily Beast