Ukraine's crisis could reignite protests in Russia, report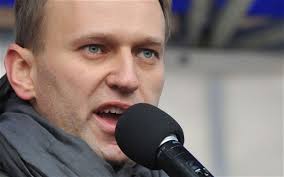 A Moscow court placed Russian opposition leader Alexei Navalny under house arrest on Friday as President Vladimir Putin cranked up pressure on his critics, amid government concerns that Ukraine's crisis could reignite protests in Russia.
The house arrest will start next Monday when Mr Navalny finishes a one-week administrative detention imposed on him on Monday night after his participation in an unsanctioned protest rally.
The court said Mr Navalny, an anti-corruption blogger who briefly became the centre of a wave of protests against Mr Putin's return to the presidential office in early 2012, had violated the terms of his parole under a five-year suspended prison sentence he was given last year on embezzlement charges. Mr Navalny claimed the charges were politically motivated.
"I believe the new measures are based on trumped-up grounds in order to restrict my political activities," Russian news agencies quoted him as saying in court.
In the past two years, Mr Navalny has evolved from a blogger to the point man for opposition to the Kremlin.
He is widely seen as the only potential challenger to Mr Putin after he garnered an unexpected 27 per cent in last year's Moscow mayoral election – coming close to forcing a second-round run-off with the incumbent mayor, Sergei Sobyanin.
His five-year sentence bars him from running in the 2018 presidential race. But Mr Navalny recently became more active again. After the Sochi Winter Olympics, he published a damning report with allegations of corruption surrounding the games.
Last week, he became involved in opposition protests over a court decision that sent seven other activists to prison for participating in a 2012 opposition rally, during which participants resisted riot police. At the protest, Mr Navalny was detained, along with 200 other people.
A spokeswoman for Mr Navalny said that the opposition leader had been barred from using social networking sites and barred from using the internet. He is allowed to speak to his family, she added.
Financial Times