Ukraine's president prevented from fleeing to Russia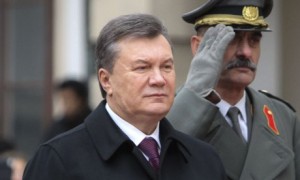 Ukraine's border police blocked Viktor Yanukovych from flying to Russia and the embattled president is thought to be 'hiding' in the country's east, the newly elected parliament Speaker says.
'He tried to take a plane to Russia but he was blocked in doing so by border police. He is currently hiding somewhere in the Donetsk region,' Oleksandr Turchyno was quoted as saying by Ukrainian news agency Interfax on Saturday.
Meanwhile, Ukraine's border guard service said that a governor and a mayor from the president's eastern base have fled to Russia.
A spokesman for the border guard service, Oleh Slobodyan, said Kharkiv regional governor Mikhaylo Dobkin and Kharkiv Mayor Hennady Kernes left Ukraine across the nearby Russian border on Saturday.
Both are top allies of Yanukovych, whose rule appeared increasingly under question after protesters took over the capital and parliament voted to remove him.
Sky News