A suicide bombing in Hermel kills 2 Lebanese soldiers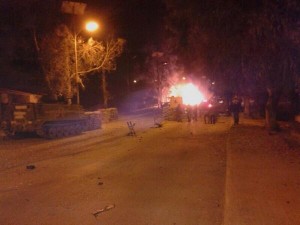 Another suicide bomb explosion took place in Hermel on saturday evening at a Lebanese army checkpoint near the al Assi bridge in north Eastern Lebanon
Two Lebanese soldiers were killed and 8 were wounded according to preliminary reports .
The bombing is the latest in a string of attacks targeting Hezbollah-dominated areas in Lebanon. Two car bombs exploded in Bir Hassan, in Beirut's south suburbs on Wednesday, killing 11 people. On February 1, another bomb exploded at a gas station in Hermel, killing four. Both areas are Hezbollah strongholds.
This is a breakdown news …more to follow
Updates:
-Three of the wounded were identified as Hassan Ali Jaafar,Elie Rizk and a soldier from the Aby Zaid family
-State Commissioner to the Military Court Judge Saqr Saqr ordered the police to collect evidence and information about suicide bomber and the car and bomb used in the attack, and direct the investigation, he also requestd Dr. Fouad Ayoub to collect body parts and perform DNA tests.
– The U.S. embassy in Lebanon deplored the Hermel explosion: An attack against the army is an attack against all the Lebanese, a statement said
– Al-Mayadeen reported that 3 people were killed in the explosion and 17 others were wounded.
– Prime Minister Tammam Salam denounced the Hermel explosion as a terrorist act : "Targeting the army is targeting an essential component of the nation." He said. He called Army chief General Jena Kahawaji to offer his condolences for the loss of the 3 soldiers .
– The suicide bomber, who was driving a Grand Cherokee, detonated the bomb after soldiers grew suspicious of him at a military checkpoint
– Four soldiers were among those wounded.