U.N. Security Council approves Syria aid access resolution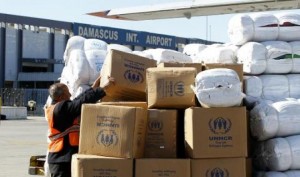 The U.N. Security Council on Saturday unanimously adopted a resolution to boost humanitarian aid access in Syria, where the United Nations says 9.3 million people need help, that threatens to take "further steps" in the case of non-compliance.
Russia and China, which have shielded Syria's government on the U.N. Security Council during the three-year-long civil war, voted in favor of the resolution. They had previously vetoed three resolutions condemning Syria's government and threatening it with possible sanctions.
Done deal
Minutes before the UN Security Council voted 15-0 to adopt the modified draft humanitarian resolution on Syria, Russian Ambassador Vitaly Churkin told the press, "Of course we are going to support" the resolution. It was a done deal.
From the original draft by Australia, Luxembourg and Jordan, omitted in the final resolution were references to the International Criminal Court, Hezbollah and Quds Force, an explicit reference to the threat of sanctions, and specifics on cross border aid from Turkey and Iraq.
Second resolution to pass
Today's vote was the second time that a resolution on Syria has won the unanimous support of the Security Council. The first was a resolution last fall compelling Syria to turn over it's chemical weapons stockpile. To their credit, diplomats at the UN harnessed momentum from that moment of unity to make progress on the issue of humanitarian access, which culminated in today's vote, according to UN dispatch.
Resolution 2139 (2014)
Through Resolution 2139 (2014), the Council demanded "that all parties, in particular the Syrian authorities, promptly allow rapid, safe and unhindered humanitarian access for UN humanitarian agencies and their implementing partners, including across conflict lines and across borders."
The 15-member Council also called for an immediate end to all forms of violence in the country and strongly condemned the rise of Al Qaida-affiliated terror attacks.
Members also demanded an immediate end to all attacks against civilians, as well as the indiscriminate use of weapons in populated areas, including shelling and aerial bombardment with barrel bombs, whose use has been condemned by senior UN officials.
Mr. Ban, who participated in the rare Saturday meeting, welcomed the resolution but added it "should not have been necessary" as humanitarian assistance is not something to be negotiated but allowed by virtue of international law.
He expressed profound shock that both sides are besieging civilians as a tactic of war, and noted that reports of human rights violations continue, including massacres, as well as sexual and gender-based violence against children.
In the resolution, the Council strongly condemned "the widespread violations of human rights and international humanitarian law by the Syrian authorities" and urged all parties involved in the conflict to lift sieges of populated areas, including in Aleppo, Damascus and Rural Damascus, and Homs.
The resolution builds on the Presidential Statement adopted four months ago, which stressed the need for immediate action to protect civilians and give access to people in need.
Earlier this month, Amos noted that despite "modest" progress on the humanitarian front, the UN and partners have not been able to reach the most vulnerable people in the country.
She underscored her plea to Council members to do everything they can to use their influence over the parties to this appalling conflict, to ensure that they abide by humanitarian pauses and ceasefires, give humanitarian actors sustained and regular access, commit, in writing, to upholding international humanitarian law, allow systematic cross-line access, and prevent UN relief teams from being shot at while delivering aid to people in need.
Well over 140,000 people have been killed and an estimated 9 million others driven from their homes since the conflict erupted between Syrian President Bashar al-Assad and various groups seeking his ouster nearly three years ago.
According to the UN Refugee Agency (UNHCR), there are currently more than 2.4 million refugees registered in the region: some 932,000 in Lebanon; 574,000 in Jordan; some 613,000 in Turkey; 223,000 in Iraq; and about 134,000 in Egypt.
In today's resolution, the Council emphasized that "the humanitarian situation will continue to deteriorate in the absence of a political solution" and expressed support for the UN-sponsored direct talks between Government and opposition representatives.
At the end of the second round of talks last week, Lakhdar Brahimi, the UN-Arab League Joint Special Representative, expressed regret that "only modest cooperation between the sides" was reached on humanitarian effort. He said the parties agreed to his proposal that a new round of talks would focus on violence and terrorism, a transitional governing body, national institutions and national reconciliation.
Reuters/Inner city/ UN dispatch
Photo: A worker arranges parcels of emergency relief provided by the United Nation's Refugee Agency (UNHCR) after they were unloaded from a cargo aircraft in Damascus, on February 13, 2014.