Jacky didn't bring in the gold but sure made Lebanon proud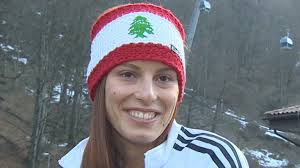 Lebanese skiing champion Jacky Chamoun was not able to get the gold for Lebanon but she sure carried the Lebanese flag at the Sochi Olympic games and made Lebanon proud.
Jacky finished 58th in the Women's Alpine skiing slalom competition on Friday at the Winter Olympics in Sochi, while Iran's Forough Abbasi finished 60 .
Chamoun finished the race in 1:16:05, 23 seconds behind the number one winner.
First place went to America's Mikaela Shiffrin (52:62), German's Maria Hoefl-Riesch came in second (53:11) and Slovenia's Tina Maze placed third (53:29).
Chamoun was recently embroiled in a scandal that began when Al-Jadeed television published a behind-the-scenes video of an Austrian ski calendar shoot, which featured risqué photos of Chamoun and other athletes.
As NORA BOUSTANY wrote in the Washington post :
"The clueless outgoing Lebanese Minister of Youth and Sports, Faisal Karame, ordered Lebanon's Olympics Committee to investigate one of its two skiers competing at the Sochi games after photos surfaced of her in an Austrian calendar with other professional athletes wearing nothing but a hot pink string bikini bottom, boots and her gear."
"The "scandal" was aggravated by the distribution of a video of her clambering up on a ledge, showing her backside barely covered by her string bikini, as she took position for a shot.", Boustany wrote and added
"Lebanon's liberal online news portal juxtaposed Chamoun's alluring pinup with a picture of an armed man in camouflage fatigues under a headline screaming: "Boobs over Bullets."
"A public outcry in the blogosphere, social media and advertising circles chastising Karami for hypocrisy and a skewed sense of priorities prompted him to issue a statement of meek contrition. He said he was trying to protect the reputation of the Olympics and the Lebanese family. Chamoun, 22, an Alpine slalom skier, was cleared and allowed to stay in Sochi."
"There was an outpouring of public support on her Facebook page, and fans created another page under the name "I Am Not Naked." Young women and men posted photos of themselves topless and in varying degrees of nudity, carrying cardboard smiley face signs that read #stripforjackie. Chamoun, who began competing outside Lebanon at the age of 13, paying for her own lessons, equipment and fees, was bewildered, pleased and embarrassed by the somewhat risqué manifestations of solidarity."
"The clash in Arab societies between openness and die hard traditionalism, spearheaded by Islamic movements, is part of the subtext in this incident. Lebanese pride themselves on living in the most open and fun-oriented Arab nation and are bent on protecting their way of life. Bloggers and columnists took Karame to task for not backing a draft law banning domestic violence in Lebanon instead — three women, including one last week, have been killed recently by their husbands after a history of battery and assault."