Hezbollah recruiting European mercenaries for Assad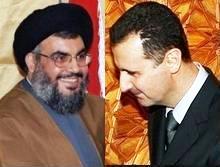 Hezbollah is reportedly recruiting European mercenaries from Russia and Eastern Europe to fight alongside the forces loyal to president Bashar Al Assad against the rebels, security sources were quoted as saying according to the lebanese newspaper Daily Star
March 14 officials reportedly received security information about new Eastern European mercenaries arriving in batches at the Rafik Hariri International Airport on their way to Syria . According to the one Eastern European country's intelligence unit, most of these fighters have professional military experience and have fought in Chechnya.
Last January witnessed the arrival of the first batch of these mercenaries of these batches according to well-informed sources. Around 23 fighters, who arrived at the Beirut airport then traveled in Hezbollah vans to Chtaura and then on to Nabi Sheet in east Lebanon. The leader of the group also held a meeting with a Hezbollah military official, Habib M., known as Abu Hussein, who hails from the town of Ali al-Nahri in the Bekaa Valley. The fighters then headed to the Syrian town of Serghaya near Damascus.
The second batch arrived at Rafik Hariri International Airport quietly and without fanfare so as not to draw attention to themselves. This group included approximately 11 fighters, three of whom hailed from Russia's southern Dagestan province, the report added
The Eastern European fighters are wearing Hezbollah military uniforms as well as yellow bands on their heads according to the sources.
The sources also revealed that Eastern European company M Security Group, one of the most prominent organizations of its kind in the region, recruited the fighters specifically to send them to Syria to fight alongside the Syrian regime for a large monthly salary as well as insurance for their families.
According to the sources, an Eastern European officer known as Maximov is currently in a Damascus suburb in which Hezbollah is fighting the Syrian rebels, from where he handles and coordinates some of the cells working under his leadership and Hezbollah's fighters.
During a speech last Sunday Hezbollah chef Hassan Nasrallah said his party will not withdraw from fighting alongside the regime of President Bashar al-Assad.
"We will remain in Syria."
He also underlined that Hezbollah will win the battle, and that "the Resistance's weapons and techniques are being developed… to be ready for bigger confrontations."
"We will be victorious in this battle. It is a matter of time."
The Hezbollah chief went on to defend once more his party's involvement in the Syrian war, by warning of the danger and threat that Takfiri groups pose to all religions and the region as a whole.