Egypt: Police Officers Acquitted over 2011 Killings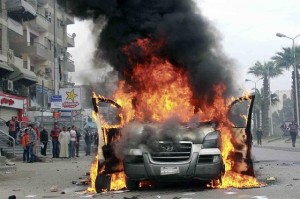 An Egyptian court acquitted six police officers Saturday on charges of killing 83 protesters during the country's 2011 uprising, something rights activists say could allow toppled autocrat Hosni Mubarak to walk free on similar charges.
It's the last case in a string of acquittals for nearly 100 officers charged in the killings of more than 840 demonstrators during the 18-day revolt. That's as Mubarak's successor, ousted Islamist President Mohammed Morsi, finds himself entangled in multiple court cases that carry the death penalty.
"The sequence of events show that Mubarak will most probably get acquitted," said human rights lawyer Mohsen el-Bahnasi, who also represents the families of 83 protesters killed in Alexandria.
Mubarak and his top security official Habib el-Adly were sentenced to life imprisonment in June 2012 before a court overturned the verdict on appeal. They also face a retrial with others for failing to stop killings of protesters.
Rights groups say the military-backed interim government is trying to scrub the image of the country's police, notorious for the torture and abuse that sparked the 2011 uprising. That's as pro-government media outlets depict anti-Mubarak revolutionaries as foreign agents who orchestrated chaos.
Meanwhile, security forces routinely use a new protest law to target Morsi supporters and others protesting against the interim government. A Cairo court on Saturday sentenced 15 youth protesters to two years in prison and 50,000 Egyptian pound (nearly $7,100) fines for protesting without a permit in January.
"The whole world knows who killed the protesters and who incited shooting them," said Ahmed Ezzat, a lawyer who works with the prominent Freedom of Thought and Expression group. "These acquittals strengthen (Mubarak's) position. … Now we have the interim authorities putting it all on Morsi."
The Alexandria case involved the former head of security in the city and of the riot police. Prosecutors alleged that commanders armed police with live ammunition and allowed officers to shoot at protesters in front of police stations from nearby rooftops.
Lawyers for the officers denied that they were responsible for the killings. During a Jan. 19 hearing, lawyers referred to Morsi's Muslim Brotherhood group as the "real killers" of the protesters, the state-run daily newspaper Al-Ahram reported.
Lawyers for the acquitted officers could not be reached for comment Saturday.
Given the chaos surrounding the 2011 uprising, legal experts say it is difficult to pin down individuals responsible for a specific killing. However, rights activist accuse Egypt's judiciary of protecting security forces at the expense of justice.
El-Bahnasi, who was involved in a commission investigating the killings of protesters that sent its findings to Morsi, said witnesses were either intimidated or bribed to change their testimonies. He also said that court cases were deliberately separated from Mubarak's trial.
"There was an intention to help all those policemen to escape justice," he said.
Ezzat added: "Policemen who are acquitted come out of detention fiercer. They will kill more protesters."
Meanwhile, Morsi faces a host of charges. He appeared in court Saturday locked in soundproof glass cell with other defendants, though he vowed to try the country's military chief and Republican Guards commander for killing his supporters.
Saturday's hearing involved a case known in the Egyptian media as "the great escape," with charges stemming from prison breaks that freed some 20,000 inmates during the 2011 uprising. The majority of the some 130 people charged— including militants from the Palestinian Hamas group and the Lebanese militant group Hezbollah — are being tried in absentia. Morsi himself was freed in one of the prison breaks before becoming the nation's first freely elected president a year later.
Mohammed Abu-Leila, a lawyer of Mohammed el-Beltagy, a top member of the Brotherhood charged in the case with Morsi, said that he sarcastically asked the court to give him time to learn sign language to be able to communicate with his client through the glass.
"It is as if we are in a monkey's jungle," he angrily said after the session was over.
Abu-Leila also complained about the illegally recorded conversation between Morsi and his lawyers leaked to the press earlier this month. Audio clips of the conversations posted online by the private daily newspaper el-Watan allegedly had Morsi concurring with what his lawyer suggested was the uselessness of both protests and subsequent security crackdowns. The Brotherhood's office in London later denied that Morsi spoke against the protests.
The trial has been adjourned to Monday as lawyers requested the case be transferred to a panel of different judges. After the hearing, security officials said that authorities took Morsi to Cairo's Scorpion prison at Torah instead of the heavily-fortified prison of Borg el-Arab near Alexandria where he has been held. Morsi is scheduled to appear in court again Sunday for another case. The officials spoke on condition of anonymity because they were not authorized to speak to journalists.
Associated Press Photo: In this Friday, Feb. 21, 2014 photo, a vehicle being used by an Egyptian television news channel burns after being set on fire by protesters following a demonstration by supporters of the Muslim Brotherhood in the Pyramids neighborhood of Cairo, Egypt. Since the overthrow of former President Mohammed Morsi, last July, at least five journalists have been killed, 45 assaulted, and 11 news outlets raided, according to the Committee to Protect Journalists. The New York-based advocacy group also reported that at least 44 journalists have been detained "without charge in pretrial procedures, which, at times, have gone on for months." (AP Photo/)