Shiite cleric says cabinet should focus on fighting terror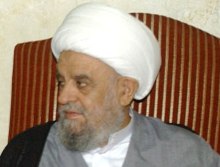 Top Lebanese Shiite cleric, Vice President of the Higher Shiite Islamic Council Sheikh Abdel Amir Qabalan called for the upcoming ministerial policy statement to focus on fighting terrorism, and said that the Lebanese Armed Forces should be the party responsible for security.
In a religious address Friday, Qabalan called for the ministerial statement to concentrate on battling terrorism, corruption, and wickedness.
The cleric also said there must be cooperation through the state to reduce destruction and adversity in Lebanon, and recommended that the LAF and security forces should be handed control of security for the protection of the people.
He stated that Lebanon must be extricated from the difficult crisis it is experiencing, and called on all parties to cooperate and reconcile their differences.
His comments come two days after two suicide bombers blew up their cars near an Iranian cultural center in the Hezbollah stronghold of Bir Hassan, south of the capital Beirut killing at least 12 people and injuring dozens including children in an orphanage, in the latest attack targeting Shiite areas in Lebanon.
An al-Qaida-linked group claimed responsibility for the bombings, saying they were in retaliation for Hezbollah's involvement in the Syrian war alongside President Bashar Assad's forces. The Shiite militant organization is backed by Iran.
The Abdullah Azzam Brigades said on its Twitter account that the "invasion of the Iranian cultural center" was in "retaliation for Iran's party fighting along the criminal regime in Syria."
It was referring to Hezbollah, which has been a staunch ally of Assad's government. Hezbollah's fighters have been instrumental in helping dislodge Syrian rebels from areas near the border with Lebanon.
The Abdullah Azzam Brigades said the attacks in Lebanon will continue until Hezbollah fighters withdraw from Syria and scores of detainees are released from Lebanese jails. It said Hezbollah will not "enjoy security in Lebanon until the people of Syria feel secure."