Twin explosions wounded 11 children at orphanage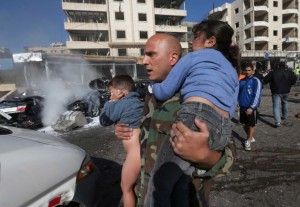 The twin explosions that ripped through the Beirut Bir Hassan neighborhood on Wednesday wounded several children at the Social Welfare Institutions, also known as Dar al-Aytam al-Islamiya.
According to a statement issued by the orphanage, the explosions injured 11 children, in addition to a member of staff.
It added that the incident took place while the children were taking part in a recreational event in the courtyard of the institution's building.
The classrooms and the institution's vehicles were also extensively damaged by the explosions, which killed at least six people and injured over a hundred others.
The attacks – linked to the conflict in neighboring Syria – were quickly claimed by the Abdullah Azzam Brigades an Al-Qaeda linked group.
The group previously claimed an attack on the Iranian embassy in Beirut, also located in the same Shiite neighborhood which is controlled by the Tehran-backed Hezbollah.
Tens of thousands of Hezbollah fighters have been fighting alongside Syrian President Bashar al-Assad's troops against the mostly Sunni-led rebels.
Photo: A Lebanese army soldier carries two injured children away from the site of an explosion near the Kuwaiti Embassy and Iran's cultural center, in the suburb of Bir Hassan, Beirut, Lebanon, Wednesday, Feb. 19, 2014. The bombing in a Shiite district in southern Beirut killed several people on Wednesday, security officials said — the latest apparent attack linked to the civil war in neighboring Syria that has killed and wounded scores of people over the last few months. Photo: Hussein Malla, AP