FSA replaces its military chief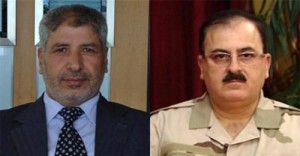 The Free Syrian Army said Sunday it had sacked Selim Idriss as its military chief, citing the "difficulties faced by the Syrian revolution" in its battle with the regime.
In a video broadcast on the Internet, the rebel coalition said its military council had decided to replace Idriss with General Abdel al-Ilah al-Bachir ( L).
A source inside the Syrian opposition told AFP Idriss — who was appointed to the role in December 2012 — had faced criticism for failings on the battlefield.
These included "errors and carelessness in combat" and "poor distribution of weapons" among the rebels on the ground, the source said.
The Western-backed rebel Free Syrian Army (FSA) was once the country's strongest armed opposition force , but now it is increasingly marginalized by Islamists.
It has been weakened by internal rifts and by competition from other rebel coalitions such as the Islamic Front, a powerful alliance formed last year that is now the largest rebel force with tens of thousands of fighters.
In December the United States and Britain suspended non-lethal aid to the FSA, dealing a major blow to a group that appears caught between advancing regime forces and the increasingly unified Islamists
The FSA's move came after peace talks between the Syrian regime and the opposition ended without result, throwing the future of the negotiations to end the bloody conflict into doubt.
AFP