Hezbollah chief claims credit for cabinet formation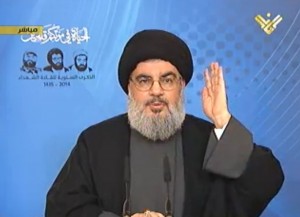 During a speech marking the anniversary of its martyrs, Hezbollah Secretary General Hassan Nasrallah claimed that his party was the one that sacrificed the most for creation of the new cabinet.
"Hezbollah and the Amal Movement opened the door for this  achievement… Hezbollah made the most sacrifices for  the creation of  this cabinet." He said during a TV appearance via video link
Nasrallah stressed that he did not want political vacuum in the country, and that he wanted to avoid the formation of a neutral or a fait accompli cabinet, which prompted him to "waive" some of his party's rights when it comes to representation in the government.
"I do not consider this cabinet an all-encompassing cabinet because there are significant parties that were not represented in it… It is a 'settlement' or a 'national interest' government."
He went on to voice his hope that this new cabinet would be able to secure the staging of the looming presidential elections, and that it would be able to resolve the threats that Lebanon is facing, notably terrorism.
Nasrallah started his lengthy speech by reminding everyone of Israeli threat to Lebanon and the region.
"I remind those who have forgotten in Lebanon that Israel is still an enemy and a threat to Lebanon's people, water, oil, security and sovereignty," said Nasrallah.
He added that his party" heard recently of several Israeli threats, but no one in Lebanon cared, since there are some parties that consider the resistance to be the threat against the country."
After nearly eleven months of bickering Prime Minister Tammam Salam finally announced on Saturday the formation of a 24-minister cabinet.
Since Salam's appointment in April last year, efforts to form a government had stumbled over disputes between Hezbollah, whose fighters have been helping the Syrian army crush the revolt, and Hariri's bloc which backs the Sunni-led uprising.
The formation of the new Lebanese cabinet gained momentum after Hariri declared last January that he is now ready to share power with his rivals Hezbollah if that's what it takes to help Lebanon finally form a government after nine months of political deadlock.
Hariri told Reuters in The Hague , where he was attending the trial in absentia of four Hezbollah members charged with his father's killing, that he's not only ready to share power with Hezbollah but is optimistic they can come to an agreement.
"We're trying to run the country with everyone, because we do not want to keep anyone outside," he said in an interview on January 16 after attending the opening session of the Special Tribunal For Lebanon.
The new government brings together for the first time in three years Hezbollah and the the Future movement , and the agreed compromise ensures neither side has veto power over the other.
The 24 portfolios are divided equally between three groups ; the Hezbollah led March 8 alliance, The March 14 alliance and the centrist bloc which includes Salam, president Michel Suleiman and PSP leader Walid Jumblatt.
The cabinet included all Lebanese parties, except for the Lebanese Forces, which maintained its stance against participating in a cabinet that includes ministers representing Hezbollah, as long as the militant group maintains its role in Syria.
Earlier today former Lebanese president hailed Hariri's sacrifices and credited him with facilitating the cabinet formation.
Syrian war
Nasrallah also addressed his party's participation in the war in Syria, now in its third year, and stressed that Hezbollah will not withdraw from fighting alongside the regime of President Bashar al-Assad.
"We will remain in Syria."
He also underlined that Hezbollah will win the battle, and that "the Resistance's weapons and techniques are being developed… to be ready for bigger confrontations."
"We will be victorious in this battle. It is a matter of time."
The Hezbollah chief went on to defend once more his party's involvement in the Syrian war, by warning of the danger and threat that Takfiri groups pose to all religions and the region as a whole.
"Takfiri terrorism is a threat to the entire region… it is present in all the countries of the region… [and] all religions and sects are under their threat."
"Why don't we have the right to be worried of those rebel groups if other countries are worried about their residents fighting with them?" Nasrallah asked in reference to the several European, Gulf and Arab countries that banned their residents from fighting in Syria and even imposed jail sentences against them.
"If these armed groups took control of Syria and the Lebanese border towns, we would have a war on all fronts. If these groups triumph, will the Future Movement have a future in Lebanon? … This threat faces the entirety of the country," he added to attempt to show these groups' danger for all of Lebanon's parties and sects.
Meanwhile, the Hezbollah chief responded to accusations that his party's fighting in Syria triggered the wave of suicide bombings that have been rocking Lebanon for months.
"Some parties in Lebanon said that the suicide bombings wouldn't have taken place if it weren't for Hezbollah's intervention in Syria, but before our participation in [the war], such operations were [also] taking place. Our intervention was not the reason for these operations."
"These Takfiri groups had Lebanon as a target. They were coming sooner or later. It was a matter of time."
Nasrallah stressed, however, that even if it was a result of their fighting against the rebels, "it is worth it."
"We protected the Lebanese in Qusayr from being killed and raped… Is that not worth us bearing the repercussions?"
He also accused Israel and the United States of using extremists to "have them carry out suicide bombings in Lebanon."
"Israel has been taking advantage of the situation in Lebanon to wage a psychological war against the Resistance," Nasrallah continued.
He later urged all political parties in Lebanon not to provide these suicide operations with an excuse.
Al-Qaeda-linked groups operating in Lebanon, notably Al-Nusra Front, Abdullah Azzam Brigades and the Islamic State of Iraq and al-Sham, have claimed responsibility for several car bomb explosions that have hit the Hezbollah strongholds of Dahiyeh and Beqaa's Hermel.
Shiite-populated areas in Lebanon have been the target of a series of terror attacks since Hezbollah chief Sayyed Hassan Nasrallah announced in May 2013 that his Shiite party was fighting on behalf of the regime of Bashar al-Assad in the Syrian civil war.
Lebanese Armed Forces and security apparatuses have been attempting since to uncover terror networks in Lebanon, and were able to dismantle a number of explosives-rigged cars coming from Syria.
According to a report from Tehran, the Iranian government dispatched some 50,000 Lebanese Hezbollah militants to Syria to help the Syrian regime in crushing the uprising.
Iranian MP Seyyed Mahmoud Nabavian who made the statement was also quoted by Fars news agency on Feb. 12 as saying that Iranians have trained some 150,000 Syrian citizens in Iran, and another 150, 000 in Syria itself.
According to reports the Syrian regular army is crumbling specially since several successive recruitment drives had failed, as young men had fled rather than join up. For this reason it is Hezbollah backed by Iran that is prolonging the life of the Syrian regime, according to these reports.
During the conflict in Syria which began in March 2011, more than 140,000 people were killed and over 10 million were displaced in the Syrian territory and over two and half million fled to neighboring countries. Most of the Syrian refugees are in Lebanon , Jordan , Turkey and Iraq.