Sayyed severs ties with March 8 over Rifi's Appointment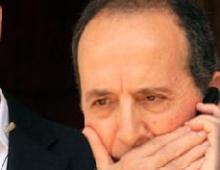 Former Lebanese Security chief Maj. Gen. Jamil el-Sayyed announced on Saturday that he broke off his relations with the Hezbollah-backed March 8 alliance because it consented to a cabinet with Former Lebanese Internal Security Forces chief Major General Ashraf Rifi as the Minister of Justice.
"I announce cutting off all communication ties with the March 8 camp," Sayyed said in a statement.
He explained his stance: "Any political party has the right to nominate any personality to be represented in the new cabinet, including nominating Ashraf Rifi."
"But there is no ethical or logical reason that justifies March 8's step of giving away the Justice Ministry," he added.
"March 8 had recently rejected the extension of Rifi's mandate as an ISF chief, and they have toppled the cabinet of former premier Saad Hariri for rejecting to refer the case of the false witnesses to the Judicial Council, in which Rifi was involved."
He expressed that it isn't the first time the March 8 camp, including Hezbollah and AMAL Movement, "commits a huge mistake."
"But this time, the entire coalition bears the responsibility of this huge ethical mistake that cannot be politically justified for any reason."
Sayyed then announced cutting off his ties with the camp, but assured that he will commit to its "strategic political path."
Sayyed's comments come after Prime Minister Tammam Salam finally announced on Saturday the formation of a 24-minister cabinet, nearly 11 months after his appointment .
One observer commented to Ya Libnan about al Sayyed's unenviable position by saying: " This has been a terrible week for Sayyed. One day after he was nominated by Marshall Islands to be its ambassador to UNESCO , the nomination was withdrawn… By breaking off relations with March 8 he will be placing himself between the rock and the hard place…. And having March 14 in charge of the ministries of Justice and Interior he will have no place to hide."
Sayyed was detained in 2005 along with 3 other Lebanese officers for several years in connection with the assassination of former Lebanese PM Rafik Hariri . He was released four years later in 2009 for lack of sufficient evidence on condition he could be detained again once enough evidence becomes available.
The Marshall Islands' move to nominate him to UNESCO, the UN's cultural arm, was revealed by French daily Le Figaro, which noted that acquiring diplomatic immunity could enable El Sayyed to avoid potential prosecution by the Special Tribunal for Lebanon ( STL) , an international UN-backed criminal tribunal looking into Hariri's murder.
Hariri was killed in a Beirut bomb attack which also claimed the lives of 22 others and left 226 people injured. His assassination led to the withdrawal of Syrian troops after a 29-year of military presence.
When Sayyed's nomination was announced there was speculation that France would not let him have a visa and the US which is the main financial supporter of the Islands will have a say on the issue , specially since he is well known to be anti-American and very closely associated with the Iranian backed Hezbollah militant group and the Syrian regime.