Lebanese New Cabinet: Born Dysfunctional
By : Ghassan Karam, A very popular saying by Einstein is specially made to describe the new Lebanese cabinet. He has reportedly said that "only irrational people will undertake the same experiment over and over again and yet expect different results".
by Ghassan Karam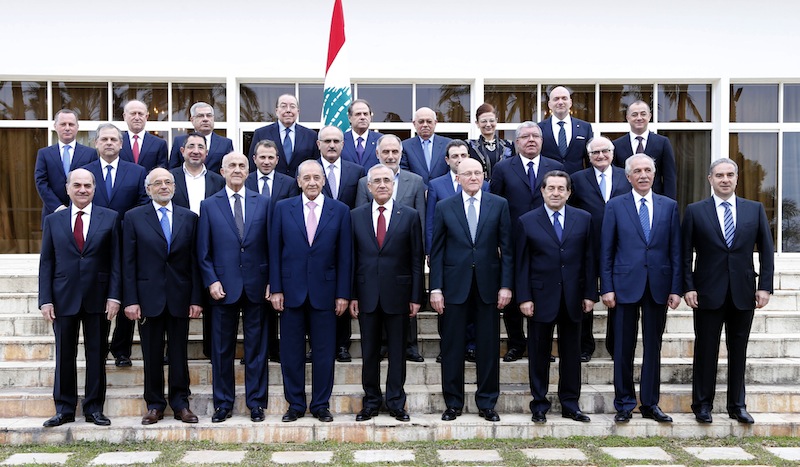 A very popular saying by Einstein is specially made to describe the new Lebanese cabinet. He has reportedly said that "only irrational people will undertake the same experiment over and over again and yet expect different results". It took over 10 months to reshuffle the same deck of cards of a weak hand to start with and to give birth to a new hand made up of the same cards but in a different order, an insignificant change. If the first dealt hand was considered weak then why would reshuffling the order make it strong?
A related feature that needs to be highlighted is the feeling that each of these politicians is a "Superman"; joined this time by a "wonder woman" . Is there any portfolio that Gibran Basil is not eminently qualified for? We are told that this civil engineer was a perfect fit for Energy and that he did a great job at Telecommunication. But since background and experience do not matter in Lebanon, we are told to rest assured that he would be our best Foreign Minister yet. Some have suggested that he was offered the Education portfolio also because of his unbelievably strong background in that field. He is very well read and understands  what is required to o have a successful academic outcome for the new generation of Lebanese. That is what "Supermen" are made for.
Fortunately for us, the Lebanese citizens, Gibran Basil is not the only Lebanese politician with that great and unique capacity to excel at any and all government portfolios. Wael Abu Faour, the young PSP politician is equally blessed, maybe even more so than Mr. Basil. He has already served as a Minister of State and handled the Social affairs Portfolio. Obviously that is a perfect background for the Health Ministry which he is to fill in the new cabinet. He is willing to undertake the responsibility of straightening the governmental mess at any cabinet that Mr. Jumblat asks him to take. Mr. Faour is such an obedient and loyal disciple that he will be more than glad to accept any position as long as Walid Bey asks him to do so. What is more important to the country? Is it qualifications for a post or is it the blessings of a scion of one of the oldest Lebanese feudal landlords masquerading as a modern day socialist?
Then there is the Shia duo of Fneish and Al Khalil. Each is so sure of his expertise in all fields that they would never hesitate to take on the challenge of a new position especially if that coincides with the narrow interests of the Speaker and Sayed Hasan Nasrallah. Devoted and patriotic cadres must always be willing to execute any and all demands of their party leadership. Mr. Fneish conquered all the intricacies of the Energy portfolio before he accepted the challenge of Labour and two different stints as a State Minister.
And what can one say about Mr. Harb, the perennial presidential candidate and the independent Maronite who will again be willing to march to any length provided his name will stay in the limelight. This multitalented lawyer has served as a Public transportation minister, an Education minister as well as a Labour minister prior to his new role as the chief technologist in the Telecommunication ministry.
We must not forget also the willingness of the Kataeb to offer their party support to any cabinet that will recognize them by offering them any two portfolios. The Kataeb , just like the FPM, PSP, Amal and Hezbollah have their own "supermen" that can perform marvelously at any position.
And last but not least the Lebanese are blessed to have Al Mustaqbal a party headed by a citizen who does not dare visit the country and whose favourite means of communication is a daily Tweet probably worded by his handlers. One day the Mustaqbal is not willing to join Hezbollah in a cabinet, the next day they will do so if they get the Cabinet of Interior Affairs to one of their favourite sons who is a master at sectarianism, Mr. Rifi. But once a party is essentially leaderless and unprincipled then it is not too difficult to get them to change their mind again. Obviously they accept to move Mr. Rifi to the Justice ministry and rationalize their constant changes in positions and ultimatums by using the thin logic that they will always sacrifice for the sake of peace and tranquility. Only the weak keep on sacrificing.
What charade makes obvious  is that this country has been ruled for a long time by whatever Hezbollah wants. Make no mistake about it. Hezbollah is the clear cut winner in this unproductive game that has become the hallmark of Lebanese politics, a game of incompetence and lack of political maturity. Hezbollah forced the Hariri government to fall, and then they got the Miqati government to replace it. They managed to postpone the Parliamentary elections in order to support directly the Syrian regime although they were part of a government that declared to the world its neutrality on the  Syria problem. That is when it became advantageous for them not to have a cabinet except in a care taker capacity and thus they forced Miqati to resign. They have been preventing the formation of an effective cabinet for over 10 months by playing the role of the master puppeteer. FPM under general Aoun was, as always, more than willing to enforce the wishes of Hezbollah to a t. But eventually the level of dissatisfaction by all this dysfunctionality increased to a crescendo and so Hezbollah again comes to the rescue. They force the Al Mustaqbal to go back on many of their demands, ask Aoun to stop his obfuscation and get Tamam Salam to escape the label of having failed to form a cabinet after the longest gestation period in the history of the country. Mr. Salam has not done himself or the nation any favours. He should have formed a small cabinet of qualified technocrats 10 months ago and forced the politicians to take a stand.
Economists and psychologists tell us that Homo sapiens are risk averse by nature. I am willing to take the opposite position. I will be a Giraffe; put my neck out; by saying from the start that this cabinet will not be any different or more effective than any of the last 4-5 ones. Pity the Lebanese.