Obama threatens to step up pressure on Assad regime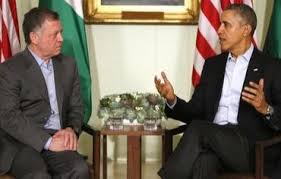 As Syrian peace talks in Geneva appeared to flounder, US President Barack Obama vowed to step up pressure on the regime of President Bashar al-Assad.
Obama's remarks came as he hosted Jordan's King Abdullah II at the Sunnylands retreat in Palm Springs, California, to address issues including the flood of Syrian refugees into Jordan.
The US leader said both he and the Jordanian king "recognize that we can't just treat the symptoms" of the Syrian crisis.
"We're also going to have to solve the underlying problem – a regime led by Bashar al-Assad that has shown very little regard for the well-being of his people.
"We are going to need a political transition in that region." "We don't expect to solve this any time in the short term so there are going to be some immediate steps that we have to take to help the humanitarian situation there," Obama said.
"There will be some intermediate steps that we can take to apply more pressure to the Assad regime, and we're going to be continuing to work with all the parties concerned to try to move forward on a diplomatic solution," he said, without specifying what those steps may be.
At the meeting Obama pledged $1 billion in loan guarantees to Jordan, as well as a renewal of a five-year memorandum of understanding.
The current five-year package, worth $660 million a year, expires in September.
The funds are aimed in part at helping Washington's Middle East ally cope with the flood of Syrian refugees and its loss of natural gas from Egypt, White House officials said.
King Abdullah said the Syrian crisis and the rise of extremism are his country's primary concerns.
Jordan has borne the brunt of much of the humanitarian overflow, with nearly 600,000 Syrian refugees on its soil, straining its infrastructure and finances.
The United States is the largest aid donor to Syrian refugees, so far donating $1.7 billion to the cause, according to the US Agency for International Development.
A senior administration official said that the $1 billion guarantee will make it easier for Jordan to access capital markets and borrow money.
"It's a signal to the markets of the strong confidence of the United States in Jordan, of our partnership, and of our intention to be there as a partner for Jordan in the long term," said the official, speaking on condition of anonymity.
Concerning Syria, Washington has been trying "to work with and press the Russians to understand that the status quo is not serving their interests either," the official said. "They are much closer to the parts of Syria than we are that are becoming increasingly ungoverned and dangerous."
The official blasted the Russians for having "a pretty sorry record having twice double vetoed with the Chinese quite anodyne" UN resolutions.
But he said Washington and its allies "could conceivably reach agreement on a humanitarian resolution" with them.
Such a resolution could be "strong in terms of the obligations and expectations that it would impose on the regime to improve humanitarian access," but not necessarily include more sanctions or a threat of force.
The Russians "can't have it both ways," the official said. "They can't say they're in favor of negotiations in Geneva and a transitional government guided by full executive authority and humanitarian access, and have a happy Olympics, and then be part and parcel of supporting this regime as it kills people in the most brutal way."
The meeting with the king of Jordan – whose nation began a two year term in the UN Security Council in January – is the first of a trio of meetings between Obama and key Middle East leaders in the coming weeks.
On March 3, the US president will sit down at the White House for his latest encounter with Israeli Prime Minister Benjamin Netanyahu, who has made no secret of his skepticism over an interim deal that Washington and other world powers reached with Iran on its nuclear program.
Then at the end of March, he will travel to Saudi Arabia to meet King Abdullah, who shares Netanyahu's doubts about Obama's Iran strategy.
Times Of India