Longtime Syria activist now negotiates peace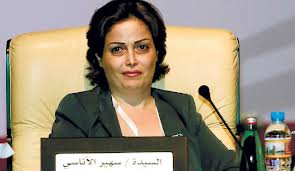 As a human rights lawyer and longtime pro-democracy activist in Syria, Suheir Atassi once said she would never negotiate with President Bashar Assad's government.
Known by some as the "Lady of the Revolution," Atassi, 42, was among the first to join the protests against Assad that erupted in March 2011. She was beaten by security agents at an early sit-in, spent 30 days in prison and nine months in hiding.
But Atassi is now one of two Syrian women on the opposition team in Geneva trying to negotiate an end to the civil war that has killed more than 130,000 people and displaced millions. For her, even discussing concessions with the government run by a man she regards as a war criminal is not easy.
"For someone who used to say there can be no dialogue with the killers, to sit in the same room with a delegation that represents the killers, this has not been an easy transition for me," she said in an interview.
Since the summer, Assad's forces have clawed back key territory from weapons-strapped rebels increasingly bogged down by in-fighting with Islamic extremists. Under intense pressure from the United States, Atassi and others in the opposition changed their mind.
In Geneva, both sides blame each other for the violence which has taken on sectarian overtones in Syria, a country with a Sunni majority that is battling to overthrow a government dominated by Assad's Alawite sect, an offshoot of Shiism.
On Wednesday, the opposition delegation submitted a paper to U.N. negotiator Lakhdar Brahimi in Geneva that contains its vision for a post-war Syria. The document calls for a transitional governing body that would oversee a U.N.-monitored cease-fire in Syria and the expulsion of foreign fighters fighting on both sides.
For the first time, it did not demand that Assad step down nor was his name mentioned in the 24-point plan.
"We are offering extreme concessions for the revolution which raised the slogan of toppling the regime," Atassi said. "
Atassi and others said the opposition has not dropped its demand for Assad's ouster. Still, the move suggests the opposition recognizes the shift that has occurred in the past year not entirely in its favor. The increasing influence of Islamic extremists among rebel ranks has also dampened the West's support for and faith in the Syrian revolution.
Atassi, the daughter of an industrialist from an elite Sunni family, is not the only former prisoner at the negotiating table. Haitham al-Maleh, a veteran opposition figure and senior member of the negotiating team, spent 10 years in Syrian prisons and has compared participating in the talks to taking "a dose of poison."
For the Syrian government negotiators, it also isn't easy to talk with Syrian civilians they consider tools of Western imperialism and terrorists bent on their destruction.
Atassi accused members of the government's delegation headed by Syria's U.N. ambassador, Bashar Jaafari, of regularly insulting the opposition and accusing its members of being "agents" and "traitors."
Negotiators have described the talks as mostly calm and civilized. However several of Atassi's colleagues say Jaafari tends to "lecture," and she said: "We feel that the other side is here to write reports (about us), rather than to offer ideas" to end the civil war.
Atassi gained prominence during a brief opening in Syria known as the "Damascus Spring" after Bashar Assad took over power from his late father Hafez in 2000.
That period included public meetings known as "salons" or "forums" which were held to discuss reforms in the country. She ran the Jamal Atassi Forum, named after her father, the late opposition veteran and founder of the Democratic Arab Socialist Union, which was outlawed by Assad's father.
She and other members of the forum were arrested for a week in May 2005 for reading a statement by the head of the outlawed Muslim Brotherhood group at a private gathering.
When the "Arab Spring" started, toppling dictators in Tunisia and Egypt, Atassi was among the few in Syria who dared to openly support them. At a vigil in support of Egyptian protesters, she was attacked by security forces who slapped her, dragged her by the hair and accused her of being an Israeli agent.
She was arrested in March 2011 at the onset of the Syrian uprising during a sit-in outside the Interior Ministry in Damascus calling for the release of Syrian political prisoners, and she spent a month in prison. Atassi then continued her work with young revolutionaries and eventually went underground for nine months during which she says she changed locations seven times.
By the end of December 2011, she was forced to leave the country, saying she wore a face veil for cover as fighters smuggled her across the border from the southern town of Daraa to Jordan, and from there to Paris.
Today, she is based in the Turkish border town of Gaziantep, where she heads the Assistance Coordination Unit that mobilizes and coordinates humanitarian aid for the Syrian people in opposition held territory.
Atassi said the opposition has been forced into painful concessions — including negotiations — to end the bloodshed in her country.
"When we said there would be no dialogue with the killers we were being genuine," she said. "But back then there was no (al-Qaida) and all this starvation and pain. … Our people are dying of hunger and of cold."
Atassi said the opposition is now giving Assad a way out by asking him to step aside in favor of a transitional governing body with full executive powers to administer the war ruined country until elections are held.
Washington Post