"I Am Not Naked" Lebanese campaign in support of Jackie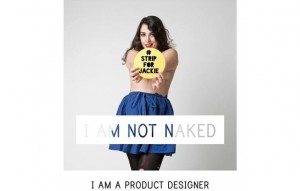 Several social media users started campaigns on Facebook, Twitter and Instagram to express their solidarity with Jackie Chamoun, the Lebanese champion skier who was criticized for a semi-nude photo shoot, NOW reported on Wednesday.
I Am Not Naked is a Facebook page that was created Wednesday morning to show support for Jackie, where a number of men and women posted pictures of themselves without any clothes on, only holding a paper that reads "Strip for Jackie."
The pictures' captions start with I Am Not Naked, followed by the person's profession.
One of the Facebook page's administrators told NOW that the page that was created Wednesday at six in the morning and shows people aged between 20 and 30 from different regions of Lebanon.
Twitter users also posed semi-naked and posted their pictures with the hashtag #StripForJackie as a sign of solidarity with the Lebanese athlete.
A social media campaign was waged against Chamoun on Tuesday because she posed nude for an Austrian ski calendar three years ago.
The campaign began when Al-Jadeed (New TV) television published a video of the making of the photo shoot, labeling it as "a scandal."
Caretaker Sports and Youth Minister Faisal Karami later asked to investigate into the case of Lebanese Ski Champion Jackie Chamoun who is currently representing Lebanon in the Olympic Games in Russia's Sochi.
Phalange party MP Sami Gemayel joined the list of Jackie Chamoun's defenders yesterday . He told her on his official Facebook page: "Focus on the Olympics race in Sochi and your supporters we will take care of the rest"
NOW .