Francois Hollande honoured at US state dinner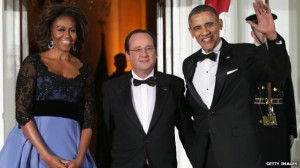 French President Francois Hollande has been honoured at a lavish White House state dinner, capping a US visit aimed at renewing the partnership between the two long-standing allies.
His was the first official state dinner at the White House since 2011.
At the party, Mr Hollande and US President Barack Obama toasted the nations' centuries-old friendship.
The have suggested the bad feelings over US spying and French opposition to the Iraq War have been soothed.
Caviar and quail eggs
Among the guests at Tuesday's state dinner were a host of diplomats and dignitaries from both governments, as well as leaders in the media and business.
Hollywood luminaries in attendance included Bradley Cooper, Mindy Kaling, Stephen Colbert, Julie Louis-Dreyfus and director JJ Abrams.
The roughly 300 guests dined on caviar, quail eggs and rib-eye steak, later dancing to the music of singer Mary J Blige.
After being welcomed to the White House by Mr Obama and First Lady Michelle Obama, Mr Hollande was seated between the couple at the dinner table in a heated tent on the South Lawn.
The move was seen as a tactful way to handle the fact that Mr Hollande arrived stag after an ugly, widely publicised split from long-time partner Valerie Trierweiler following reports he had an affair with an actress.
'Vive la France'
The highlights of the evening were toasts given by the two presidents.
With a glass of white wine in his hand, Mr Obama opened by quoting French writer Alexis de Tocqueville's impressions of 19th Century America, recalling to humorous effect his bafflement with American cuisine and his underwhelming impression of the White House.
"We Americans have grown to love all things French, the films, the food, the wine," Mr Obama continued. "But most of all we love our French friends because we have stood together for our freedom for more than 200 years.
"Vive la France, God bless America, and long live the alliance between our great nations."
Speaking first in English, Mr Hollande acknowledged the sacrifice of the US soldiers who fought in France during World War Two and said that France felt America's pain at the terrorist attacks of September 11.
Continuing in French, he praised French-US diplomatic and military co-operation in the Middle East and Africa, and said the two countries would work jointly for economic growth and to combat climate change.
Mr Hollande said relations between the two countries had reached "an exceptional" level of closeness because they shared the "universal values" of freedom, democracy and respect for the law.
"We love Americans, although we don't always say so," the French president said, "and you love the French, though you are sometimes too shy to say so."
"We love Americans, although we don't always say so  ….and you love the French, though you are sometimes too shy to say so." French president Francois Hollande said at the White House following a state dinner in his honor
At the news conference after bilateral talks earlier on Tuesday, Mr Hollande said he and Mr Obama had resolved their issues over digital eavesdropping by the US National Security Agency.
"Mutual trust has been restored," said Mr Hollande.
Mr Obama also announced he had accepted Mr Hollande's invitation to go to France in June to commemorate the 70th anniversary of the invasion of Normandy during World War Two.
On Wednesday, Mr Hollande, 59, will travel to San Francisco and meet chiefs of Silicon Valley giants including Facebook, Twitter and Google.
State dinner menu
At Tuesday's state dinner, the first at the White House since 2011, guests will be served:
First course: American Osetra Caviar, Fingerling Potato Veloute, Quail Eggs, Crisped Chive Potatoes
Second course: White House's Winter Garden Salad
Main course: Rib Eye Beef, Blue Cheese, Charred Shallots, Oyster Mushrooms, Braised Chard
Dessert: Hawaiian Chocolate-Malted Ganache, Vanilla Ice Cream and Tangerines
BBC