'Topless' Picture of Lebanese Olympic skier sparks flap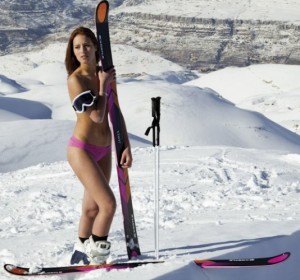 Jackie Chamoun, the Lebanese skier competing at the Sochi Winter Olympics, has sparked a flap in the country, including a ministerial demand for an investigation, after risque photos of her taken for a calendar resurfaced online.
The photos of Chamoun taken for the calendar show her holding strategically-placed ski equipment to protect her modesty as she poses in Faraya mountains.
But a video of the photoshoot and stills from the film, which leave rather less to the imagination, emerged online this week, sparking criticism in some quarters after they were featured on local television.
Chamoun took to Facebook on Tuesday to publicly apologize for the video and stills, which she said showed the preparation for the photoshoot, rather than the final product.
"The video and photos that you are now seeing are part of the making of the preparation. It wasn't supposed to go public," she wrote.
"I want to apologize to all of you, I know that Lebanon is a conservative country and this is not the image that reflects our culture," she added.
"All I can ask to each of you who saw this is to stop spreading it, it will really help me focus on what is really important now: my training and race."
But the apology has not placated everyone, with caretaker Youth and Sports Minister Faisal Karami calling on Tuesday for an investigation into the photos to ensure "the protection of Lebanon's reputation."
The local Olympic Committee was meeting Tuesday afternoon to discuss the issue, and the head of the Olympic delegation told Agence France Presse that Chamoun had been barred from speaking to the media.
Chamoun's photos touched off a small firestorm in the country.
"Stop all your trash," Issam Merhi wrote on Chamoun's Facebook page, addressing her supporters.
"What she has done is wrong, or else you would have all done it."
The 22-year-old Chamoun is competing in her second Winter Olympics representing Lebanon in alpine skiing.
And despite the criticism leveled against her, plenty of fans offered their support online.
"Don't worry about nay sayers Jackie!" wrote Nicolas Rubeiz on her Facebook page.
"Cherish your independence and keep making us proud. You are causing no shame whatsoever to Lebanon."
And others ridiculed the idea of a ministerial investigation to protect Lebanon's reputation at a time when the country is being rocked by a string of car bombings and other violence.
"Weekly car bombs, not a big deal. #JackieChamoun in a slightly revealing photoshoot: scandal. #LebaneseProblem," wrote Twitter user KareemVots.
AFP
Update 2 :  Phalange  party MP Sami Gemayel joined  the list of  Jackie Chamoun's  defenders . He told her on his official Facebook page: "Focus on the  Olympics race in Sochi  and  your supporters we will take care of the rest" .
Update 2 :
Hours after caretaker Sports and Youth Minister Faisal Karami asked  the Olympic  Committee to investigate into the case of Lebanese Ski Champion Jackie Chamoun's topless   photo on Tuesday that social media websites were overloaded with angry, sometimes sarcastic comments.
The Lebanese people expressed their solidarity with the athlete through blogs, tweets, and Facebook posts and even the number of people who like her page on Facebook, who were around 3000 this morning, reached more than 20,000.
A number of celebrities, politicians, and journalists also joined the campaign.
Journalist Dima Sadeq commented on Jackie's picture: "Scandal? Did you say scandal? Excuse me but all I see in this picture is beauty and the sacred personal freedom… Jackie Chamoun thank you for your boldness and your beauty."
Artist Anthony Touma announced his support for Chamoun in handling the ministry of sports in the new cabinet, while singer Bruno Tabbal tweeted: "We all support Jackie Chamoun."
Kataeb bloc MP Nadim Gemayel commented on this issue, saying: "Jackie Chamoun is free to do whatever she wants… she is a talented skier and her pictures are beautiful. All the support!"
Also, Marada Movement official Vera Yammine stated: "You look at nudity and you overlook shame."
As a result of this controversy, Chamoun's case crossed Lebanon's borders and reached international media.
Foreign Policy's David Kenner commented on minister Karami's decision: "These are the Lebanese government's priorities."
Meanwhile, The Huffington Post's correspondent Patrick Galey in Beirut wrote an article entitled "Jackie Chamoun photos: Lebanon out dumbs itself."
In his article, Galey criticized the attack against Chamoun especially after the Lebanese Tourism Ministry had repeatedly used the pictures of attractive women in its advertising campaigns.
Elsewhere, one of the tweets written in solidarity with Chamoun criticized how the Lebanese government is threatening her while foreign media is concerned with highlighting the skier's long and difficult journey to reach the Olympics amid a complete absence of any official support for her career.
NOW