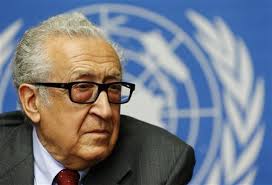 As fighting raged unabated in Syria, government and opposition representatives met in Geneva on Monday for a second round of peace negotiations in hopes of moving away from the inconclusive and often fractious exchanges in the first round that ended 10 days ago.
Lakhdar Brahimi, the United Nations mediator guiding the peace process, prepared the ground by meeting the opposition's chief negotiator on Saturday and then holding talks with Syria's foreign minister, Walid Muallem, after his arrival in Geneva on Sunday. The preliminary discussion did not lead to immediate face-to-face negotiations. Mr. Brahimi began Monday's discussions with another separate meeting with the opposition, to be followed by talks with the government delegation.
After the first round of talks ended on Jan. 31, Mr. Brahimi acknowledged "we haven't made any progress to speak of" but identified some common ground between the two sides that he said could provide a platform for this week's talks, adding the crucial caveat "if there is good faith and political will."
There was scant evidence of either on Sunday as mortar shelling and sniper fire erupted in the city of Homs, inflicting civilian casualties and damaging aid agency vehicles that had arrived under a United Nations-brokered humanitarian pause intended to enable aid agencies to deliver food and medicines to the blockaded Old City, where civilians have been trapped for the past two years.
Several hundred civilians described by aid workers as in frail health were able to get out of the Old City but the gunfire that reportedly killed at least six civilians and forced aid agency staff to shelter for several hours in the ruins of the Old City starkly exposed the hazards that have hindered international efforts to open up humanitarian access to more than a quarter of a million people believed to be living in areas under siege by government and rebel forces, and to millions of Syrians in other areas where insecurity has obstructed aid deliveries.
The high stakes in the Geneva talks for Syria's war-weary populace were further underscored by reports of scores of casualties in an attack attributed to jihadist rebels on an Alawite village in the central province of Hama. The London-based Syrian Observatory for Human Rights said 20 civilians, including women, and some 20 men defending the village were killed in that assault, The Associated Press reported.
The only common ground between the government and the opposition visible at the end of the first round of talks was an agreement to negotiate within the framework of a communiqué that called for the creation of a transitional government with full executive powers and based on mutual consent.
But that position left ample room for opposing interpretations. Opposition delegates have said they want to focus immediately on the composition of a transitional government and timelines for creating it. Mr. Muallem, before leaving Syria, said the government was prepared to negotiate the communiqué article by article but it has also scotched any suggestion it is ready to negotiate a transfer of power and wants the Geneva talks to focus instead on tackling "terrorism."
In the interval since the first round of meetings, Mr. Brahimi and the Syrian parties to the talks have conferred with the United States and Russia, the sponsors of the Geneva process, and Moscow said Foreign Minister Sergey V. Lavrov had conferred with Secretary of State John Kerry by phone over the weekend. No details have emerged of any initiatives to steer the warring parties toward implementing cease-fires, prisoner exchanges or better access for aid agencies.
NY Times
This error message is only visible to WordPress admins
Error: No connected account.
Please go to the Instagram Feed settings page to connect an account.