Siniora: Aoun and Hezbollah obstructing cabinet formatiomn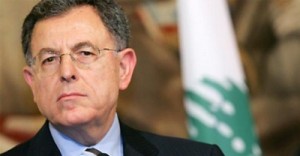 Former Lebanese prime minister and Future Movement parliamentary bloc leader MP Fouad Siniora accused on Monday the Free Patriotic Movement ( FPM) of obstructing the formation of the government with the help of Hezbollah, stressing that the two sides backed down on their commitments.
"Everyone showed willingness to facilitate the formation of the government, but now we discover that some sides are obstructing the process by imposing new conditions," Siniora said in remarks published by the Kuwaiti newspaper Al-Anbaa on Monday.
" Some have reneged on the idea of the rotation of portfolios, and have adopted the strange thinking that some portfolios are strictly the property of certain individuals, political factions, or confessional groups."
"These ideas violate our constitution ," he stressed
Siniora also stressed that those who reject the concept of rotating portfolios torpedoed former PM Saad Hariri's initiative to share power with Hezbollah in an attempt to end a ten-month political deadlock.
Siniora further criticized FPM leader MP Michel Aoun, saying that he was personally responsible for undermining the cabinet efforts and was being pushed by Hezbollah.
He urged Lebanon's President Michel Suleiman and Premier-designate Tammam Salam to form a new government, even if it involves a fait-accompli cabinet.
"If a de-facto cabinet was formed then we'll see the developments from that point," he added.
Lebanon's PM Designate Tammam Salam has been attempting for nearly 10 months to form a new government that would bring together the rival March 14 and March 8 alliances .
Former PM Hariri, whose party has the largest parliamentary bloc in the cabinet and who is considered a pillar in the pro-Western March 14 coalition, stated nearly 3 weeks ago that he is putting aside his personal differences with Hezbollah in an effort to form a national-partnership cabinet that can safeguard the country.
Aoun has rejected the proposed rotation of the ministerial portfolios and his son-in-law Grbran Bassil has voiced his desire to maintain control over the Energy and Telecom Ministries.