Abducted Nuns plead for release of Syrian female prisoners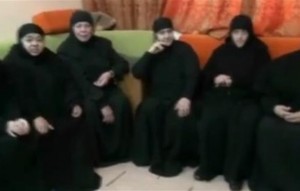 A group of nuns who were abducted in the Syrian Christian town of Maalula appeared in a new video broadcast by Al-Jazeera on Sunday, pleading for the release of female prisoners held by the regime.
The nuns, who are Syrian and Lebanese nationals, pleaded for the release "of all [female] prisoners," adding that they would accept being a bargaining chip or "the reward" for the release of female prisoners from Syrian regime prisons.
They appeared in the recording saying they "are in good health, haven't been mistreated…and they are waiting for their release to return to the convent," AFP reported.
In the video, the nuns also said that they had wished to stay in their monastery in Maalula, despite the shelling that targeted the town at the time of their abduction.
"This is our duty [to stay in the convent]."
The 12 nuns were reported missing from the town north of Damascus after rebel forces, including jihadists, seized control of Maalula in December 2013.
Media close to the Syrian regime accused rebels of using the nuns as "human shields," and fears were raised for the safety of the women.
They appeared in a video in December, in which they stated that they were in good health and that they fled Maalula after intense shelling there.
They called for an end to the targeting of holy sites by all parties to Syria's bloody 33-month conflict.
Maalula, a picturesque village cut into the cliffs some 55 kilometres (35 miles) from Damascus, has long been a symbol of the ancient Christian presence in Syria.
Its residents are some of the few left in the world who speak Aramaic, the language that Jesus Christ is believed to have spoken.
NOW/AFP