Lebanese army arrests a Syrian army defector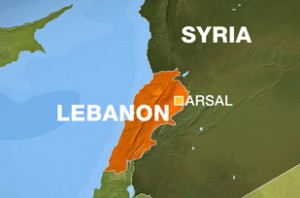 The Lebanese Armed Forces arrested in Wadi Hmayyed in the eastern town of Arsal a Syrian army colonel who had defected from the regime of President Bashar al-Assad , the National News Agency reported Sunday evening.
NNA added that Mahmoud Abbas was a member of the "Military Council of the Syrian Revolution."
Abbas was previously in charge of the army's front in Al Qusair, a Syrian town adjacent to the Lebanese border. The town was the scene of a fierce battle in mid-2013, which saw the Syrian army supported by Hezbollah fighters rout the rebels from their stronghold.
The Lebanese army also announced on Sunday the arrest of two Syrian nationals, Omar Mahmoud Othman and Radwan Mahmoud Ayyoush, in Wadi Hmayyed for illegal entry.
"The detainees are being interrogated under the supervision of relevant judicial authorities," the army said in a statement.
Unconfirmed reports have revealed that Hezbollah, which has set up checkpoints around the town of Arsal arranged for his arrest by the army.
Arsal mayor Ali al Hujairi told al Jumhouriah newspaper in remarks published on Saturday that Hezbollah militants have besieged the town and have set up checkpoints on all roads and intersections leading to the town to intimidate the citizens by inspecting all the incoming and outgoing vehicles.
He added: "They are forcing people out of their cars, demanding to see their ID's and insisting on knowing their final destinations without showing any respect for the law of the land nor to the citizens of the this country.