Assad hiding WMDs in Alawite enclave, report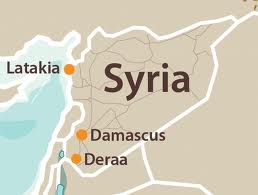 As the removal of Syria's chemical stockpile drags on, President Bashar al-Assad has been accused of stockpiling advanced weaponry – including chemical and biological arms – in the heartland of his Alawite sect, according to The Sunday Times this week.
The The Sunday Times report, which relies on Israeli and Syrian sources, claims that Iranian and North Korean experts are helping the regime upgrade its chemical weapons, and that Assad's regime has chosen to keep the chemical and biological weapons in case Syria is split into several parts .
The report comes as fears grow after the Syrian regime missed a deadline to hand over all his chemical weapons for destruction. A second deadline may also be missed, a source speaking to the newspaper said. "Syria has given up only about 4 percent of its chemical weapons arsenal, will miss this week's deadline to send all toxic agents abroad for destruction, and probably will miss the June 30 deadline when the entire 1,300 tons of lethal chemical weapons were due to be destroyed," one of the sources was quoted as saying to The Sunday Times.
Sources believe that some of the weapons, particularly chemical warheads for missiles and artillery shells, are being hidden along the coast around Latakia up to the Turkish border. "Down the line, Assad is doomed," an unnamed Russian expert told The Times. "His plan B, C, and D is to retreat to the Alawite enclave and try to protect the Alawite community."
An Israeli military intelligence source told the newspaper that Assad has recently stepped up efforts to guard the enclave.
"This region is now totally fortified and isolated from the rest of Syria … The most advanced weapons manufactured in Syria and imported from Russia are kept there," the source was quoted as saying.
Last week , the second Geneva conference drew to a close with no solution to stop the violence in Syria.
The Alawites represent about 12% of the Syrian population of about 22 million.
Al Arabiya