Hermel bomb weighed 25 to 30 kg, report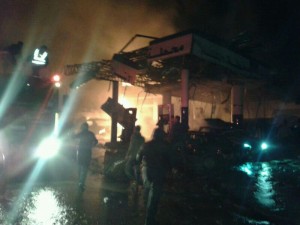 The Lebanese army revealed on Sunday in a communique that the military experts concluded that the bomb used in the suicide attack that targeted the northeastern town of Hermel on saturday evening contained between 25 to 30 kilograms ( 55 to 66 lbs) of explosives, rockets and grenades.
The explosion took place at a gas station in Hermel, a stronghold of Hezbollah, when the bomber set the explosives inside the Grand Cherokee.
Voice of Lebanon reported on Sunday that the Grand Cherokee that was used in the Hermel bombing was stolen from Abdullah Nassif who hails from Shouifat town area, south east of the capital Beirut .
MTV reported on Sunday that the suicide bomber headed from Ras Baalbek to Hermel and was spotted by security personnel who were waiting for him next to the al-Aytam gas station. The bomber's confusion prompted him to blow himself up at the station, according to the report.
Unconfirmed reports indicated that the al-Aytam ( orphans ) gas station that was bombed belonged to a Hezbollah member .
The Nusra Front in Lebanon, an al Qaeda linked group claimed on Sunday responsibility for the deadly suicide car bombing. Four people were reportedly killed and dozens injured.
It said it was to punish Hezbollah for fighting alongside forces of Syrian President Bashar Assad.
It is the third bombing that the Nusra Front in Lebanon claimed responsibility for in the country.