Salam discusses cabinet posts with Hezbollah, Berri , FPM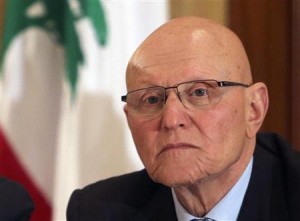 Lebanon Prime Minister-designate Tammam Salam on Sunday held talks with Hezbollah secretary-general's political assistant Hussein Khalil , Speaker Nabih Berri and caretaker Energy Minister Gebran Bassil and as part of consultations aimed at resolving the cabinet formation deadlock.
The PM-designate first held separate talks with Khalil and Bassil at his residence in Musaitbeh before heading to Ain al-Tineh for talks with Berri.
During his meeting with Bassil, Salam offered the FPM the foreign affairs portfolio and asked the movement to choose between the public works and the education portfolios, according to MTV.
FPM leader MP Michel Aoun is the main obstacle behind the formation of the cabinet and should he accept accept Salams's offer, the cabinet could be formed immediately, MTV added.
MTV added the cabinet will be formed in the coming days regardless if Aoun accepted or rejected Salam's proposal.
Under such scenario, " FPM and Hezbollah ministers would resign from Salam's cabinet and the portfolios would be allocated to acting ministers from the AMAL Movement, the Tashnag Party and the Marada Movement."
Quoting Salam and FPM sources, LBCI TV said "Salam and Bassil thoroughly discussed the issue of portfolios during their meeting, without achieving any tangible progress."
Officials close to Salam have said that the PM-designate does not mind to contact Free Patriotic Movement leader Michel Aoun to resolve the government impasse.
The officials, who were not identified, told al-Hayat that any consultation with Aoun should be based on the deal reached between the rival parties to form a cabinet based on the 8-8-8 formula and the rotation of portfolios among sects.
The FPM chief had rejected the agreement, sticking to the energy and telecommunications ministries that are part of his share in the resigned cabinet of caretaker Premier Najib Mikati.
Bassil, who is Aoun's son-in-law, said on several occasions that Salam did not consult the FPM when he agreed with the rest of the factions on the 8-8-8 formula and the rotation.
Al-Hayat quoted political sources as saying that President Michel Suleiman and Salam have no longer any choice but to issue the decree of the cabinet by giving the March 8 and 14 alliances and centrists 8 ministers each.
The sources said Aoun would get the foreign ministry, public works, education and another fourth portfolio in such a cabinet.
The energy and telecom ministries would be part of the share of Suleiman, who along with Salam and Progressive Socialist Party chief Walid Jumblatt forms the centrist bloc al-Hayat was told.
"It is no longer acceptable to wait for the formation of the cabinet," the sources added