Syrian refugees in Lebanon feel forgotten, neglected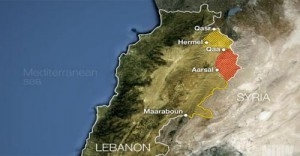 Syrian refugees have now outnumbered Lebanese residents in the Lebanese border town of Arsal, forcing new arrivals to set up makeshift shelters in remote areas outside of military control.
Refugees say they feel forgotten and neglected because they have been forced to find shelter in an area beyond the last Lebanese military checkpoint near Syria.
They have to walk through the checkpoint and into Arsal to receive aid, according to a report from Arsal by Al Jazeera's Nisreen El-Shamayleh.
At a conference in Germany Caretaker Prime Minister Najib Mikati reiterated the Lebanese government's call on the international community to help Lebanon support the burden of Syrian refugees.
Mikati stressed that the Syrian refugee crisis was undermining the Lebanese economy.
"We are incurring indirect losses as a result of the Syrian crisis. According to the World Bank, it has affected our national income."
More than 900,000 Syrians have fled to Lebanon ( a country of 4 million people) since the civil war erupted nearly three years ago, many living in tents and unfinished buildings. Many border towns and villages reportedly have now more Syrians than Lebanese inhabitants. The figure does not include the hundreds of thousands of Syrian workers who crossed the border to earn their living in Lebanon.