Mikati: All Lebanese population is being targeted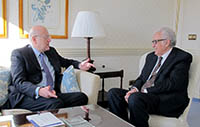 Responding to a report on an attempt to assassinate him , Caretaker Prime Minister Najib Mikati said on Saturday that the whole Lebanese population is being targeted, both their security and their daily lives.
He was commenting on a report published by Al-Akhbar newspaper , which is closely linked to Hezbollah and the Syrian regime
"Unfortunately, the whole Lebanese population is being targeted, both their security and their daily lives," Mikati said in Germany, where he is participating in the 50th annual Munich Security Conference.
"This is a result of the circumstances and developments of our surroundings." He added
"I am doing what satisfies my conscience and my national duty, and I ask God to have mercy on Lebanon and its people."He said .
"We have repeatedly warned of the consequences of regional unrest," Mikati stressed.
According to a story published in Al-Akbar on Saturday, a security report was circulated by the head of the government's security apparatus indicating that Mikati was on a list of potential assassination targets.
"Information indicated that an explosive device was put in a Kia SUV driven by a Syrian suicide bomber called Abu al-Adnan, who belongs to the Khaled Ben al-Walid Brigades – the Islamic Front. This car will target a top political official in Tripoli or Beirut, and has already moved towards its target, while other information indicates that a black Honda will detonate in Tripoli near the house of the aforementioned politician." The report stated .
The paper added that "The initial information points out that the political personality is Mikati, " who hails from Tripoli.
However, Al-Akbar also quoted security officials as saying the security report was not substantiated.
On Saturday, Mikati held separate talks with French Foreign Minister Laurent Fabius, deputy Russian Foreign Minister Alexander Bogdanov, and United Nations and Arab League envoy on Syria, Lakhdar Brahimi.
Syrian refugees
At the conference in in Germany Mikati reiterated the Lebanese government's call on the international community to help Lebanon support the burden of Syrian refugees.
He blamed the situation for the emergence of extremism in Lebanon.
"What are we expecting from those in this situation other than extremism, fostered by poverty, deprivation, and a lack of education?" Mikati said Saturday.
Mikati also stated that the Syrian refugee crisis was undermining the Lebanese economy.
"We are incurring indirect losses as a result of the Syrian crisis. According to the World Bank, it has affected our national income."
More than 900,000 Syrians have fled to Lebanon ( a country of 4 million people) since the civil war erupted nearly three years ago, many living in tents and unfinished buildings. Many border towns and villages reportedly have now more Syrians than Lebanese inhabitants. The figure does not include the hundreds of thousands of Syrian workers in Lebanon.