Aoun wants energy ministry for 'financial reasons' , Hamadeh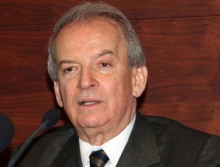 MP Marwan Hamadeh, a key member of the March 14 alliance accused the Free Patriotic Movement of insisting on retaining control of the Energy Ministry in a new government for "financial reasons" and the Telecommunications Ministry to serve Hezbollah's interests
"MP Michel Aoun wants to have the Energy Ministry for financial reasons. As far as the the Telecommunications Ministry is concerned , Aoun wants it to serve Hezbollah's interest, because the latter wants to retain control of the telecommunications sector, as well as of every matter related to security in Lebanon," Hamadeh, the former Telecommunications minister told Kuwaiti newspaper As-Seyassah in comments published Friday.
Hamadeh also said that Aoun's determination to take the aforementioned portfolios would cripple the presidential elections scheduled for the spring of 2014.
The March 14 MP stressed the need for the formation of a neutral cabinet that would "lead the country toward presidential elections."
"Lebanon needs a cabinet that is able to [rule] in case [the March 8 coalition] obstructed the presidential elections," he added.
He also said that the proposed unity cabinet bringing together Lebanon's feuding political parties would not save the country from instability.
"A political unity cabinet might see the light within a few days , but unfortunately, it will not bring light to Lebanon." Hamadeh stressed
Lebanon's PM Designate Tammam Salam has been attempting to form a new government that would bring together the rival March 14 and March 8 alliances for nearly 10 months .
Former PM and Future Movement leader MP Saad Hariri, whose party has the largest parliamentary bloc in the cabinet and who is considered a pillar in the pro-Western March 14 coalition, stated earlier in the week that he is putting aside his personal differences with Hezbollah in an effort to form a national-partnership cabinet that can safeguard the country.
Aoun has rejected the proposed rotation of the ministerial portfolios and his son-in-law Gebran Bassil has voiced his desire to maintain control over the Energy and Telecom Ministries.
NOW