Britain to take in several hundred Syrian refugees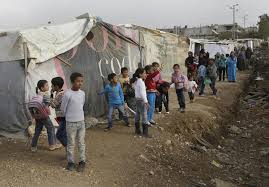 Bowing to increasing pressure, Britain will offer refuge to several hundred Syrians fleeing their country's civil war, Prime Minister David Cameron announced Wednesday.
The decision comes after weeks of contentious debate over the government's non-participation in a United Nations program that aims to resettle some 30,000 Syrian refugees in willing host countries.
Wednesday's announcement came after lobbying from opposition members and Liberal Democrats within Britain's Conservative-led coalition government, as well as from humanitarian organizations.
Speaking during his weekly parliamentary question time, Cameron said, "We will act with the greatest urgency."
"We will be coming forward with a scheme to help the most needy people in those refugee camps and offer them a home in our country. We want to make sure we particularly help those who have been victims of sexual violence."
Home Secretary Theresa May later detailed Britain's pledge to provide "emergency sanctuary in the UK for displaced Syrians who are particularly vulnerable."
She did not specify precisely how many Syrian refugees Britain will take in but put the figure in the hundreds.
Britain's assistance will be targeting those at greatest risk, "where evacuation from the region is the only option," she said. They include "survivors of torture and violence, and women and children at risk or in need of medical care recommended by UNHCR [the Office of the United Nations High Commissioner for Refugees]."
She said Britain will work with but not under the UNHCR's resettlement program, providing greater control "to make best use of our capability to help these cases."
May noted that Britain has already contributed some $995 million in humanitarian aid to displaced Syrians housed in refugee camps in neighboring countries, making the country "the second-largest bilateral donor after the United States."
In addition, she said, Britain has accepted about 3,500 individual asylum-seekers since the crisis began.
Ed Miliband, leader of the opposition Labor party, said he "welcomed the prime minister's change of heart" over the issue.
UNHCR described the move in a statement as "an encouraging and important step … in support of more than 2.3 million Syrian refugees and the countries hosting them."
"This move is long overdue," said Kate Allen of the London-based human rights group Amnesty International. "But it's never too late to do the right thing."
In a statement last month, Amnesty said European leaders "should hang their heads in shame over the pitifully low numbers of refugees from Syria they are prepared to resettle." Germany has been the most generous, pledging to take 10,000 refugees, the group said.
France has offered 500 places and Spain, 130, according to U.N. figures.
LA Times