North Korea's Kim Jong-un executed all uncle's relatives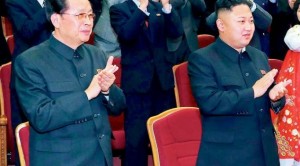 The growing collection of sometimes spurious but nonetheless captivating details surrounding the execution of the uncle of Kim Jong-un has been augmented once again.
'Multiple sources' speaking to South Korea's Yonhap News Agency claim the secretive communist regime has carried out a further brutal purge of those the young leader sees as a threat to his authority by ordering that all direct relatives of his executed 'traitor' uncle, Jang Song-Thaek, be put to death.
The reports allege that blood relatives of Jang, including children, brothers and grandchildren, were condemned to death after he himself was executed last month following accusations that he had attempted to overthrow the regime.
Jang, 67, was executed by the Pyongyang government on December 12 and the killing of his family members "mean that no traces of him should be left", a source told Yonhap.
According to the reports, which remain uncorroborated, the executions included Jang's sister Jang Kye-Sun and her husband – the ambassador to Cuba, Jang's nephew and Ambassador to Malaysia Jang Yong-Chol, as well as his two sons.
The reports claim that the children and grandchildren of Jang's two brothers were also killed.
An uncle of Kim Jong-un by marriage, Jang Song-Thaek once held some of the most powerful positions in the brutal North Korean dictatorship. He fell out of favour and was executed after rumours that he was contemplating a military coup to overthrow the leader.
Despite the new reports it is not clear how many of Jang's relatives were executed, or indeed when the executions supposedly took place. However, Yonhap claim that the two ambassadors were recalled to Pyongyang in early December and were killed soon after.
The news agency, which is connected closely to the South Korean government and intelligence agencies, says sources revealed that relatives who had resisted arrest "were shot to death by pistol in front of other people. "
Following the execution of Jang Song-Thaek in December the Korean state news wire carried a statement in which the uncle was described as "despicable human scum" and "worse than a dog".
The dispatch claimed that Jang was guilty of carrying out "thrice-cursed acts of treachery in betrayal of such profound trust and warmest paternal love shown by the party and the leader for him."
Times of India
Photo: North Korean dictator Kim Jong-Un reportedly sentenced his uncle to be eaten alive by a pack of 120 wild dogs in a savage punishment for treachery, it has been claimed. He later reportedly executed all his uncles blood relatives.