2 killed in Omaha plant fire , many missing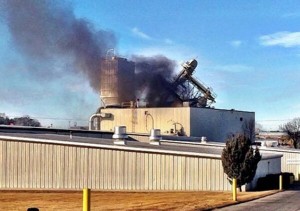 At least two people died Monday in a plant accident in Omaha, Nebraska, according to Douglas County District Attorney Don Kleine.
The scene at the International Nutrition plant has turned from a rescue operation to a recovery mission, authorities said.
Firefighters still are searching the site of a fire and partial building collapse for bodies, interim Omaha fire chief Bernard Kanger said.
Kleine said the death toll may rise because the search was ongoing.
Kanger said he couldn't comment on precisely how many people had perished. Initially there there were 17 survivors, and four were in critical condition, he said.
"There are fatalities, we're not going to release the number of those fatalities at this time simply because we have not had the opportunity to clear the entire structure," Kanger said.
There were 38 people in the building at the time of the incident, Kanger said. It was unclear how many of the missing had died and how many were merely unaccounted for Monday evening.
"I just heard a crack pop and big ball of fire, and I just took off running when I heard the first crack," worker Jamar White told CNN affiliate KETV. "That's all I could do was get out of the way and make sure I was OK."
Of the 17 survivors, six people had non-life-threatening injuries but were hospitalized. Seven people at the plant refused treatment, Kanger said.
That would leave 21 people either dead or missing.
Another employee told KETV that a ceiling collapsed.
"I heard the explosion and stuff started falling, so I ducked for cover," Nate Lewis said. "It was pitch black in there. All I could see was fire. I had to feel my way out of the place. I couldn't see anything."
At least one firefighter also was injured when he cut his hand.
A spokesman for the Occupational Safety and Health Administration said OSHA investigators were on site. Scott Allen said it was too early to determine the cause of the accident.
Authorities said the structure was unstable.
"Because of the significant collapse and potential risk to our individuals, we had to pull everybody out of the structure and we have to call in specialized teams that can secure and shore up the building in order to allow us to completely clear the structure and declare that we've found all of the individuals that may have been in the building at the time of this incident," Kanger said.
An urban search-and-rescue task force was activated by Nebraska Emergency Management.
The incident happened at a company that produces feed and other products for livestock and poultry about 10 a.m. CT.
International Nutrition was fined $10,000 by OSHA in 2013 after a lengthy investigation found six violations, including two related to electrical safety standards for machines that were undergoing maintenance, Allen said.
CNN