Syrian opposition wins first round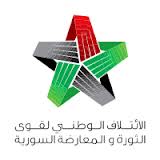 U.N. chief Ban Ki-moon withdrew a last-minute invitation on Monday to Iran to attend peace talks on Syria after the Syrian opposition threatened to boycott this week's conference if President Bashar al-Assad's main sponsor took part.
Ending nearly 24 hours of confusion that dismayed diplomats who have spent months pressuring Assad's opponents to negotiate, Ban's spokesman said Iran was no longer welcome at the initial day of talks at Montreux, Switzerland on Wednesday.
The opposition immediately withdrew its threat to stay away from the conference known as Geneva-2. But the uproar overIran, which has provided Assad with money, arms and men, underlined the difficulties of negotiating an end to a bloody, three-year civil war that has divided the Middle East and world powers.
This development came after Syria's main political opposition in exile Syrian National Coalition ( SNC) said on Monday it would decide whether to attend the Geneva II conference in Switzerland after an announcement by UN Secretary-General Ban Ki-moon on Iran's attendance at the talks.
"It is expected that the Secretary-General of the UN will be holding a press conference during the next few hours to reveal the position of the United Nations over the invitation sent to Iran to attend Geneva II," the Syrian National Coalition 's statement said and added: "The Coalition will set its final position on the basis of the statement of the Secretary-General."
Ban Ki-moon was reportedly deceived by the Iranian Foreign minister who reportedly assured him that Iran accepts the terms of the peace talks in Switzerland but after he issued the invitation the Iranian foreign ministry announced that Iran had accepted an invitation by United Nations Secretary-General to attend talks due to start on Jan. 22 but without any conditions.
"We have always rejected any precondition for attending the Geneva 2 meeting on Syria … Based on the official invitation that we have received, Iran will attend the Geneva 2 without any preconditions," ISNA quoted Foreign Ministry spokeswoman Marzieh Afkham as saying on Monday.
Reuters/ Agencies