Assad regime committed war crimes, Photos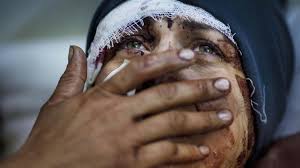 Bashar al-Assad's regime could face war crimes charges, according to top prosecutors and forensic experts, who claim to have "direct evidence" of "systematic torture and killing" by Syrian forces.
The report released on Monday includes thousands of photographs of the dead bodies of detainees allegedly killed in government custody, many of whom severely malnourished and showing signs of strangulation.
The group of prosecutors, who have have vast experience in the prosecution of war crimes and crimes against humanity, claim this is "compelling" evidence they say could be brought before an international tribunal.
"This is a smoking gun," said David Crane, one of the report's authors. "Any prosecutor would like this kind of evidence — the photos and the process. This is direct evidence of the regime's killing machine."
Mr Crane, the first chief prosecutor of the Special Court for Sierra Leone, indicted former Liberian President Charles Taylor for war crimes and crimes against humanity.
Another of the three lawyers who authored the report — Sir Desmond de Silva, the former Chief Prosecutor of the Special Court for Sierra Leone — likened the images to those of Holocaust survivors.
The method of starvation was "reminiscent of the pictures of those [who] were found still alive in the Nazi death camps after World War II," he said in a CNN interview.
The 31-page report, which was commissioned by Carter-Ruck solicitors in London acting for Qatar, is being made available to the UN, governments and human rights groups.
Its release comes just 36 hours before the Geneva II peace talks, which both sides had threaten to boycott if their conditions were not met. On Monday night the opposition agreed to attend after the UN rescinded its invitation to Iran to attend.
The 50,000-odd photographs of 11,000 detainees, which were supplied to the inquiry team by defectors, could not be independently verified.
But the graphic pictures, which have been blurred to obscure the detainees' identity, show corpses with their hands tied, others have had their eyes gouged out and some showed signs of electrocution and strangulation.
One of the defectors, codenamed Caesar, told the investigators his job was to "take pictures of killed detainees", although he says he did not witness any executions or torture first hand.
"The procedure was that when detainees were killed at their places of detention their bodies would be taken to a military hospital to which he would be sent with a doctor and a member of the judiciary, Caesar's function being to photograph the corpses … There could be as many as 50 bodies a day to photograph which require 15 to 30 minutes of work per corpse," the report says.
"The reason for photographing executed persons was twofold. First to permit a death certificate to be produced without families requiring to see the body, thereby avoiding the authorities having to give a truthful account of their deaths; second to confirm that orders to execute individuals had been carried out."
The inquiry team found him to be a credible witness, concluding that what the evidence they saw would "support findings of crimes against humanity" against the current regime.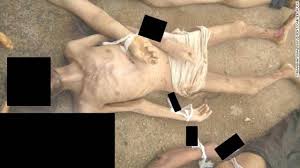 Nadim Houry of Human Rights Watch, which has not yet been able to authenticated the images, said: "We have documented repeatedly how Syria's security services regularly torture – sometimes to death – detainees in their custody.
"These photos – if authentic – suggest that we may have only scratched the surface of the horrific extent of torture in Syria's notorious dungeons. There is only one way to get to the bottom of this and that is for the negotiating parties at Geneva II to grant unhindered access to Syria's detention facilities to independent monitors."
The Daily Telegraph