Siniora disappointed by Jumblatt's stance, report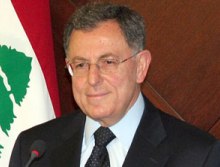 Former Lebanese Prime Minister and current Future Movement parliamentary bloc MP Fouad Siniora is disappointed with progressive Socialist party leader MP Walid Jumblatt over his stance towards cabinet formation, March 8 sources told Al Anbaaa newspaper .
Siniora is reportedly disappointed because Jumblatt , who has been mediating between the rival camps the formation of the new cabinet told PM Designate Tammam Salam he will stop his mediation effort and won't participate in the new cabinet if there is no consensus on keeping the old ministerial statement.
The current caretaker cabinet adopted the formula 'army, people, resistance' in the ministerial statement but former Lebanese PM and Future Movement leader MP Saad Hariri said during an interview on Monday:
"I refuse the existence of the 'army, people, resistance' clause in the ministerial statement…and I will not cover for the fighting in Syria, nor the illegal weapons, nor the suspects in the case of former Premier Rafik Hariri's assassination."
Commenting on Hezbollah's role in Syria he said:
"There is one Takfiri only and it is Bashar Assad and all his supporters are also Takfiris."
"Hezbollah chief Hassan Nasrallah must return to Lebanon and withdraw from Syria, and also hand over the suspects in Rafik Hariri's assassination." He stressed.
He also said that he is prepared to participate in a cabinet with Hezbollah on the condition that the latter withdraw from Syria.
"There are radical differences with the March 8 group, and especially with Hezbollah. Hezbollah's participation in Syria is igniting Lebanon, and Hezbollah knows it." He said.
The Future Movement does not want to exclude any party. We told Hezbollah before that we are ready to give them the government they want but that they have to withdraw from Syria. We told them to form a neutral cabinet for people's sake.
Even Jumblatt has in the past called on Hezbollah to withdraw its fighters from Syria