U.N.'s Iran invitation throws Syria talks into doubt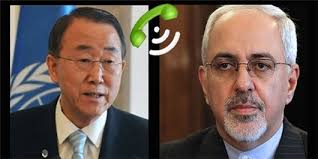 An unexpected last-minute U.N. invitation for Iran to attend a peace conference on Syria threw the talks into doubt on Monday, with the Syrian opposition saying it would pull out unless Secretary-General Ban Ki-moon withdraws his offer.
Iran is the main foreign backer of Syrian President Bashar al-Assad and its presence has been one of the most contentious issues looming over the first talks attended by both Assad's government and opponents, set to start on Wednesday in Switzerland.
Adding to dark clouds over the talks, Assad said he might seek re-election this year, effectively dismissing any talk of negotiating his departure from power, his enemies' main demand.
Ban's invitation appeared to catch Western powers off guard. The United States and France both said Iran was not welcome at the talks unless it publicly backed an accord reached in Geneva in 2012 that calls for a transitional government for Syria.
"This is something Iran has never done publicly and something we have long made clear is required," U.S. State Department spokeswoman Jen Psaki said in a statement. "If Iran does not fully and publicly accept the Geneva communiqué, the invitation must be rescinded."
Syria's main political opposition group in exile – the National Coalition, which had contentiously agreed to attend the conference known as Geneva 2 only two days ago – said it would now pull out unless the invitation to Iran was withdrawn.
"The Syrian Coalition announces that they will withdraw their attendance in Geneva 2 unless Ban Ki-moon retracts Iran's invitation," it said in a Twitter post, quoting National Coalition spokesman Louay Safi.
Ban said he had issued the invitation after Iran's foreign minister Javad Zarif told him Tehran agreed to accept the 2012 accord.
"Foreign Minister Zarif and I agreed that the goal of the negotiations is to establish by mutual consent a transitional governing body with a full executive powers," Ban said.
"He has assured me that like all the other countries invited to the opening day discussions in Montreux, Iran understands that the basis for the talks is the full implementation of the 30 June 2012 Geneva communiqué."
But Iran said it would attend the talks without having accepted any preconditions, apparently standing by its longstanding position.
"We have always rejected any precondition for attending the Geneva 2 meeting on Syria … Based on the official invitation that we have received, Iran will attend the Geneva 2 without any preconditions," Iran's ISNA news agency quoted Foreign Ministry spokeswoman Marzieh Afkham as saying.
Russia, which has long lobbied for Iran to attend and criticized the opposition and the West for opposing Tehran's presence, said there was no point in a conference without it.
"Not to ensure that all those who may directly influence the situation are present would, I think, be an unforgivable mistake," Foreign Minister Sergei Lavrov said.
ASSAD TO SEEK RE-ELECTION
The diplomatic confusion threatens to overshadow a conference that has appeared doomed from the start, with virtually no chance of achieving a breakthrough to end a war that has killed at least 130,000 people. A quarter of Syrians have been driven from their homes and half are dependent on aid, many living in areas where they cannot be helped.
Western countries and the opposition say the 2012 accord promoting a transitional governing body means Assad must leave power, and no deal is possible unless he goes. But that fundamental demand, always difficult to achieve, is far less realistic now after a year that saw Assad's position improve both on the battlefield and in the diplomatic arena.
His forces recovered ground, rebels turned against one another and Washington abandoned plans for air strikes, ending two years of speculation that the West might join the war against him as it did against Libya's Muammar Gaddafi in 2011.
In an interview on Monday with news agency AFP, Assad declared that he was likely to run for re-election later this year, making clear that his removal was not up for discussion.
"I see no reason why I shouldn't stand," Assad said. "If there is public desire and a public opinion in favor of my candidacy, I will not hesitate for a second to run for election."
He ruled out accepting opposition figures as ministers in his government, saying that was "not realistic" and said the Swiss talks should aim to "fight terrorism" – his blanket term for his armed opponents.
A powerful alliance of Islamist rebel groups has denounced the Switzerland talks and refused to attend. Even securing the attendance of the main political opposition National Coalition was a fraught affair, with many groups voting not to go.
Syria is now divided, with mainly Sunni Muslim rebels controlling the north and east, Kurds controlling the northeast and Assad's forces, led by members of his Alawite minority sect, controlling Damascus and the coast.
Western leaders who have been calling for Assad to leave power for three years have curbed their support for his opponents over the past year because of the rise of Islamists linked to al Qaeda in the rebel ranks.
No faction has the muscle to win a decisive victory on the ground. Rich Sunni Arab states led by Saudi Arabia are funding and arming the rebels, while Iran and its Lebanese Shi'ite allies Hezbollah back Assad. Violence is spreading into neighboring Iraq and Lebanon, and a humanitarian catastrophe is worsening for the millions of Syrians forced from their homes.
Reuters