Syria's SNC says UN chief to make statement on Iran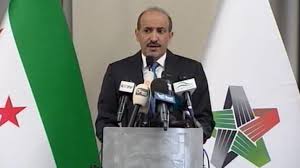 Syria's main political  opposition in exile  Syrian National Coalition ( SNC)  said on Monday it would decide whether to attend the Geneva II conference in Switzerland after an announcement by UN Secretary-General Ban Ki-moon on Iran's attendance at the talks.
"It is expected that the Secretary-General of the UN will be holding a press conference during the next few hours  to reveal  the position of the United Nations  over the invitation sent to Iran to attend Geneva II," the Syrian National Coalition 's statement said. "The Coalition will set  its final position on the basis of the statement of the Secretary-General."
The National Coalition had said it would pull out of the talks scheduled this week unless Ban revoked his invitation to Iran, President Bashar Assad's main backer, setting a deadline of 1900 GMT for the invitation to be withdrawn.
Ban Ki-moon is urgently reconsidering his invitation to Iran for Syria peace talks after its foreign ministry made a disappointing public statement in which it said Iran doesn't accept the terms of the peace talks in Switzerland, his spokesman said Jan. 20.
Martin Nesirky told reporters Jan. 20 that Ban "is dismayed" at the developments after he announced the invitation a day earlier.
Nesirky says Iran, despite assurances, "has made a disappointing public statement" that suggests Iran doesn't accept the terms of this week's peace talks in Switzerland.
Iran announced it had accepted an invitation by United Nations Secretary-General to attend talks due to start on Jan. 22 in Geneva aimed at ending Syria's civil war, the student news agency ISNA reported.
"We have always rejected any precondition for attending the Geneva 2 meeting on Syria … Based on the official invitation that we have received, Iran will attend the Geneva 2 without any preconditions," ISNA quoted Foreign Ministry spokeswoman Marzieh Afkham as saying.
Reuters/agencies