Canadian PM heckled as he vowed loyalty to Israel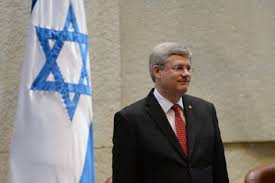 Canadian Prime Minister Stephen Harper got a taste of Israel's rough-and-tumble parliament when he was heckled by Arab lawmakers during a speech.
In a speech praising Israel Monday, Harper was condemning efforts to boycott the Jewish state and denouncing people who "disgracefully" call it an apartheid state when two Arab members shouted at him.
Lawmaker Ahmad Tibi screamed "settlements," while a second lawmaker, Talab Abu Arar, then shouted and stormed out of the hall. After the outburst, Harper received a standing ovation from other parliamentarians.
Heckling is common in the Israeli parliament. When Prime Minister Benjamin Netanyahu was interrupted by Tibi earlier, he shrugged it off and remarked to Harper that it was an example of Israel's robust democracy.
Harper, a staunch Israeli ally, is on a four-day visit  and is the first  Canadian prime minister to address the Israeli Knesset.
He told the Knesset that Israel is being targeted by a "new anti-Semitism" and pledged that his government will maintain sanctions against Iran until that country proves it's no longer pursuing nuclear weapons.
Israel's right to exist as a Jewish state is "absolute and non-negotiable," Harper said .
Tibi shouted back:  "Israel is not exclusively a Jewish state. About 20  %  of the population are Muslim or Christian. I can't blame Palestinian leader Mahmoud Abbas for his stand on this. Ethnic minorities the world over resent when their homeland is defined in a way that excludes them."
Israel's ongoing announcements of new construction on land seized during the 1967 War has drawn the ire of Palestinians, the European Union and the United States as Washington tries to coax the two sides towards an elusive peace deal.
Canada has remained firmly supportive of Israel  and was one of the few countries that opposed a successful Palestinian bid for upgraded status at the United Nations in 2012.
WP/ Bloomberg/ macleans