Lebanon cabinet bid gains momentum after Hariri's new stance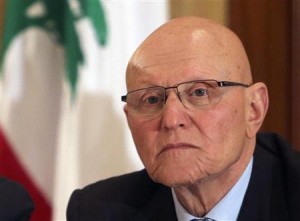 The formation of a new Lebanese cabinet gained momentum following the announcement of former Lebanese Prime Minister Saad al-Hariri in which he declared that he is now ready to share power with his rivals Hezbollah if that's what it takes to help Lebanon finally form a government after nine months of political deadlock.
Progressive Socialist Party leader MP Walid Jumblatt hailed Hariri's stance and tried to capitalize on it by urging all sides to cooperate with the former PM's initiative in order to form a unity government, As Safir newspaper reported on Saturday
"We hope all sides would cooperate with Hariri's initiative in order to form an all-embracing government." He told the daily.
Similarly Hezbollah MP Hassan Fadlallah called for seizing the momentum to form a political unity cabinet.
" We must seize the momentum to form a political unity cabinet and not waste time," the Hezbollah MP said on Saturday.
Caretaker Social Affairs Minister Wael Abou Faour , who is representing Jumblatt in his efforts to mediate between the rival politicians to form a cabinet told As Safir that Hariri's recent stance should serve to speed up these efforts.
He also told the daily that he is continuing his "intense" contacts with President Michel Suleiman, Speaker Nabih Berri, Prime Minister-designate Tammam Salam, head of the Future Movement bloc MP Fouad Siniora, and Hezbollah leaderships "in order to reach a final agreement on a government lineup."
Linking up with the Shiite Hezbollah militant group would be a sharp turnabout for Hariri and his Future party, a Sunni Muslim group that supports the Sunni revolt against Shiite-backed President Bashar al-Assad in neighboring Syria's civil war.
It also presents a personal challenge for the son of former premier Rafik al-Hariri, whose 2005 car bomb assassination was widely blamed on Hezbollah, which denies the allegation.
But Hariri told Reuters in The Hague , where he is attending the trial in absentia of four Hezbollah members charged with his father's killing, that he's not only ready to share power with Hezbollah but is optimistic they can come to an agreement.
"We're trying to run the country with everyone, because we do not want to keep anyone outside," he said in an interview late on Thursday after attending the opening session of the Special Tribunal For Lebanon.
"Lebanon is having a difficult time, especially since the international community has failed miserably to do anything for Syria," he said. "I think it is our duty towards the people of Lebanon to stabilize the country … I am very optimistic."
Asked why he was willing to work with a group accused of playing a role in his father's killing, he said he was committed to the principle of "innocent until proven guilty".