Iranian envoy killed in Yemeni capital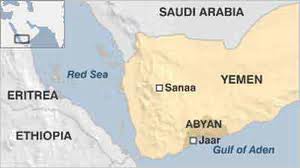 An Iranian diplomat, who was seriously wounded in a drive-by shooting by unknown assailants outside his residence, has died in the Yemeni capital, Sanaa, police and a medic have told AFP news agency.
"Unidentified assailants in a van fired on the diplomat three times as he was leaving the ambassador's residence near a shopping centre in Hadda," the main diplomatic district of Sanaa, a police source told AFP news agency.
"The Iranian diplomat has died of his wounds," the medic at Sanaa's German Modern Hospital said.
He added that the diplomat, identified as Ali Asghar Assadi, had been "hit in the shoulder, abdomen and stomach."
Nobody at the Iranian embassy was immediately available for comment, but other diplomats said the victim was an embassy security officer.
The shooting comes as another Iranian diplomat, Nour-Ahmad Nikbakht, who was kidnapped in Sanaa last July, remains in captivity.
Sectarian rivalry between Shia Muslim Houthis and ultra-conservative Sunni Salafis has increased in northern Yemen in the last several months, with at least 210 people killed.
The violence erupted on October 30 when Houthi rebels, who control much of the northern Saada province, accused Salafis in the town of Damaj of recruiting thousands of foreign fighters to prepare to attack them.
Fighting between the two sides in Saada and adjacent provinces stopped as a ceasefire deal took hold a week ago.
That deal gave the Salafis four days to relocate about 250km southwest to the Red Sea port of Hudaida.
The sectarian rivalry has cast a shadow over reconciliation efforts in Yemen, a US-ally that is home to one of the most active wings of the al-Qaeda.
The country, in turmoil since a popular uprising ousted president Ali Abdullah Saleh in 2011, is also facing southern secessionists and an economic crisis.
Al Jazeera