culture of impunity in Lebanon must end before I return: Hariri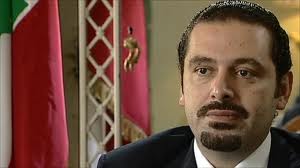 Lebanon's former PM Saad Hariri, has ruled out returning to the country he left three years ago because he fears being assassinated like his father.
Speaking in the Hague, where an international tribunal has started hearings into the killing of Rafik Hariri, the former leader killed by an explosion on the Beirut waterfront nine years ago, Hariri said the culture of impunity in Lebanon must end before he would consider returning.
"I would love to go back," he told the Guardian. "But I think there are huge challenges that face Lebanon and one of the challenges is staying alive. Lebanon is better served by me staying alive."
Hariri, who has lived in self-imposed exile between Jeddah and Paris since January 2011, spoke of his shock at first learning that members of the powerful militia Hezbollah had been accused of killing his father. He has continually blamed the Syrian regime for the killing.
"From the beginning I always thought it was the [Syrian] regime that had done it, and I still believe so [as part of a broader conspiracy]. I couldn't comprehend that Hezbollah would be crazy enough to do something like this and to harm Lebanon.
"Killing Rafik Hariri was a huge crime. He wasn't a normal individual. And when we found out about the names, it was like a nightmare, but there was also a relief in knowing the truth. They committed this crime, the court will prove it, and they will pay the price for it."
Four Hezbollah members, Moustafa Badredine, Salim Ayyash, Hussein Onessi and Assad Sabra, are on trial for the killings, although prosecutors in the special tribunal for Lebanon in the Hague made no mention of their alleged affiliation as they laid out a case against them over two days.
The trial has heard that the accused used four separate networks of mobile phones to stake out the elder Hariri over six months. The data was collated by a former intelligence officer with Lebanon's internal security forces, Wissam Eid, who was killed by a car bomb in late 2007.
Eid's assassination came amid a spate of car bombings, all of which targeted politicians or journalists close to the Hariri-aligned political bloc, known as March 14, or security officials that had worked on the investigations.
Eid's boss, Wissam al-Hassan, who led the intelligence division of the ISF, was killed in October 2012, and a senior aide to Hariri was killed by a car bomb in late December last year.
Hariri spoke of a culture of total impunity that had existed in Lebanon for the past 50 years.
He said: "It drives people crazy. Whatever happens in elections is cancelled out by killing people. Today we have a tribunal that is poking them in the eyes. I think that with time, the trend will be justice rather than impunity with political assassinations.
"Milosevic thought that no one would catch him until the end. Eventually the Syrian regime will fall and those who carried out these crimes will pay the price."
Bedevilled by regional feuds, particularly a powerplay between Riyadh and Tehran, Lebanon has been unable to form a government for the past nine months. The country's political parties all have foreign patrons, and its institutions and security services are allied to political blocs rather than a central government.
In separate interview, Hariri told Reuters that he would be prepared to share power with Hezbollah if that was what it took to break the deadlock, saying: "I think it is our duty towards the people of Lebanon to stabilise the country."
Hariri has remained a vocal supporter of the Syrian opposition since the first stirrings of uprising against Bashar al-Assad shortly after he fled Lebanon.
Hariri told the Guardian: "We have to take little steps. Stabilise the institutions. Form a government. Elect a president. The issues that are happening in Syria are far bigger, especially if Bashar al-Assad stays."
The Guardian