Aid finally enters besieged Palestinian refugee camp in Syria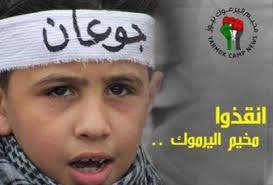 Aid has finally reached the besieged Palestinian camp of Yarmouk in the Syrian capital Damascus for the first time in months, Palestinian officials say.
Some 18,000 Palestinian refugees in the camp have not seen an aid delivery since July.
It is not clear how much aid has been allowed in the camp.
Reports from inside Yarmouk say at least 40 residents have died from hunger and lack of medical care.
Anwar Raja, a a spokesman for the Popular Front for the Liberation of Palestine-General Command (PFLP-GC), told AP news agency that much of the material was carried "on the shoulders" of (PFLP-GC) , whose militia has been allied to the government of President Bashar al-Assad.
PFLP-GC members are fighting against Syrian opposition fighters who control most of the camp.
Earlier this week the UN Relief and Works Agency (UNRWA) warned that the humanitarian situation inside Yarmouk was "worsening dramatically".
Chris Gunness, spokesman for the UN agency for Palestinian refugees UNRWA, told AFP that the agency had donated 200 food parcels to be delivered to the camp through an intermediary.
He was not able to confirm whether the parcels were delivered during the operation, which he described as a trial effort to get aid into the camp.
"The Syrian authorities sought UNRWA's support," he said.
"UNRWA responded positively by donating the requested food parcels , not directly to the Palestinian factions, but through an intermediary," he added.
"UNRWA laid down an express condition that the food parcels must be distributed exclusively to civilians in need of assistance and that no part of the aid would be handed over or distributed to, or utilized by fighters or by people who are not civilians," said Gunness.
"UNRWA received assurances that the food parcels would be distributed and used in a neutral manner for humanitarian purposes."
On Monday, UNRWA tried to send a six-truck convoy carrying food, medical supplies and polio vaccinations into Yarmouk but the mission was aborted after gunmen fired bullets near the convoy and a mortar shell exploded nearby.
Yarmouk was once home to Syria's largest population of Palestinian refugees but most have fled since the conflict began. A community of 160,000-180,000 now numbers around 20,000 or less.
Aid officials in Damascus recently told the BBC that "the gates of Yarmouk" were slammed shut in July and almost no aid has been allowed to enter since then.
BBC/ARP/HA
Photo: A Palestinian child wearing a headband that reads : "I am hungry" and the graphics read: "Save the Yarmouk "