Starving Palestinians are trapped in a Refugee Camp in Syria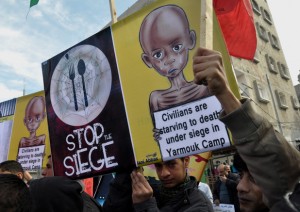 Beirut, Lebanon- Officials with the United Nations are deeply worried about the deteriorating humanitarian situation facing Palestinians living in a refugee camp in Syria's war-torn capital.
At the camp in Yarmouk, on the outskirts of Damascus, dozens of people have died in recent weeks from malnutrition or insufficient medical care, as well as the direct effects of the violence raging around them, both officials and news reports indicate. Many refugees are subsisting on diets that include animal feed and powdered spices.
"There is profound civilian suffering in Yarmouk," said Christopher Gunness, a spokesman for the United Nations Relief and Works Agency, which works specifically with Palestinian refugees across the Middle East. "From a humanitarian perspective, Yarmouk remains closed to humanitarian access and remains a place where extreme human suffering in primitively harsh conditions is the norm for Palestinian and Syrian civilians living there."
The inability of the U.N. or other international aid groups to gain safe access to the camp means that they are unable to verify the latest accounts of deaths, which range up to three dozen since the start of the year, Gunness said.
The U.N. agency estimates that about 15 perished from malnutrition and cold in the final weeks of 2013 and that more than 80 percent of Palestinians inside Syria are in need of some sort of humanitarian aid. Eighteen thousand Palestinians are believed to remain in the camp, Gunness added.
The Agence France-Presse reports that tens of thousands of other refugees have left the camp to escape the fighting between government and opposition forces.
The inability of humanitarian groups to freely travel across Syria has been one of the largest obstacles to protecting civilian populations from starvation or death from preventable diseases during the country's civil war. The blame for obstructing aid has fallen on all sides. Rebel groups have kidnapped or killed foreign aid workers, while the Syrian government has set up roadblocks, military checkpoints and other restrictions that have limited access. Active battle zones have also made much of the country difficult or dangerous to reach.
On Monday, Russian officials hintedthat the Syrian government might now be willing to do its part to facilitate greater access for international aid groups to places like Yarmouk.
At Yarmouk, opposition militant groups have largely managed to take control of the residential areas in the camp, but have found themselves besieged by government forces. Reports in the Lebanese newspaper Al-Akhbar this week cast blame for the shortage of food and other critical supplies on those militants inside the camp, which the paper claimed have attacked relief convoys in order to heighten international attention on the cruelty of Syrian President Bashar Assad's regime.
Palestinians in Syria, already refugees from their homes for decades, have faced an extra series of burdens during the displacements of Syria's three-year-long conflict. They are frequently viewed with suspicion by neighboring countries where they might take asylum and are ineligible for the services of the U.N.'s primary, and better funded, refugee care program, run by the United Nations High Commissioner for Refugees.
Over the weekend, Valerie Amos, the U.N.'s coordinator for emergency relief, traveled to Damascus, where she met with government officials about access issues and visited a school for Palestinian refugees run by the United Nations Relief and Works Agency.
"I am particularly worried about the reports of starvation," Amos said in a briefing on Monday.
"The world must do more for all the people who are displaced. Many families are living in abandoned buildings, schools or in makeshift shelters, without enough food, clean water or medicine," said Amos. "We must help them to get through this very cold winter."
Huffington Post
Photo: Palestinians take part in a solidarity with Palestinian children at Yarmouk refugee camp in Syria in Gaza city on January 7, 2014. The Syrian army has besieged the Yarmouk Palestinian camp for a year as battles rage inside the sprawling suburb in southern Damascus almost daily between rebels and pro-regime fighters. Photo by Mohammed Talatene