S.Sudan seeks technical help in oil fields from Sudan
South Sudan has asked Sudan to send engineers to help maintain oil output after many foreign workers left because of fighting between South Sudan government forces and rebels, the South Sudanese oil minister said on Monday.
Since fighting erupted in mid-December, production has slipped to about 200,000 barrels per day from about 245,000 bpd, biting into the main source of revenues for South Sudan and hurting vital pipeline transit fees earned by Sudan.
Petroleum Minister Stephen Dhieu Dau said output was still holding at about 190,000 to 200,000 bpd from fields in South Sudan, which split from Sudan in 2011, a separation that has often led to heated rows over oil and other issues.
Although a small producer, fighting that spread from South Sudan's capital Juba to oil production zones and other areas has rattled oil markets. The conflict has killed more than 1,000 people and, by one independent estimate, may have killed 10,000.
Speaking at Juba airport after meetings in Khartoum, Dau said: "I talked to them so that they can quickly provide us with the technical support in terms of engineers that can be sent into Unity state working side by side with our engineers."
Unity state is one of the main producing areas, lying in the north of the world's newest nation. Sudan had earlier offered technical support. South Sudan's government retook Unity state capital, Bentiu, from rebels last week.
Analysts say it will be tough for South Sudan to maintain production without the skills of specialist foreign workers.
Oil companies operating in Unity State are China National Petroleum Corp, India's ONGC Videsh and Malaysia's Petronas.
"We have marketed for the month of February, Dar blend, 5 million barrels, so there was no impact of the insecurity on Dar blend," he said.
ADDITIONAL PIPELINE
Before the conflict, South Sudan had been working to restore output to 350,000 bpd, the level before a row with Sudan over transit fees and other issues led Juba to shut down production in January 2012 for more than a year.
Dau said the government had a five-year plan to boost output to 700,000 bpd, a level he said could demand a new pipeline.
One proposal involves linking land-locked South Sudan with a planned pipeline between Uganda and the Kenyan seaboard. Both Uganda and Kenya want to exploit oil discoveries on their land.
"South Sudan is very rich in oil and we may have more than one pipeline for our export of the crude even if we were using the pipeline that passes through the republic of Sudan," he said. "We will also be looking for an additional pipeline."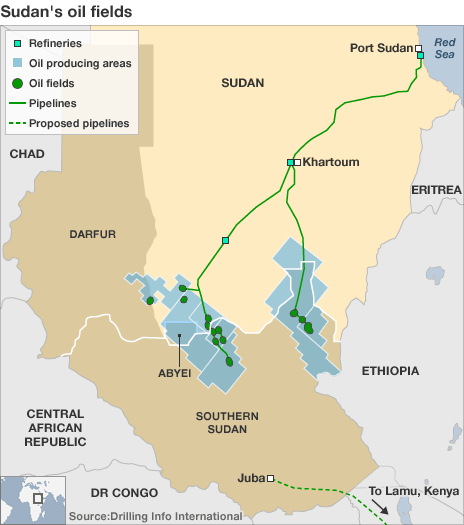 Analysts say South Sudan would need to find more reserves to cover the multi-billion dollar costs of another pipeline.
Negotiators for the government of President Salva Kiir and his rival, Riek Machar whom he sacked as his deputy in July, are gathered in Addis Ababa to discuss a ceasefire and then move to full peace talks. But there has been no progress on that so far.