UN chief: Iraqi leaders must address 'root causes' of violence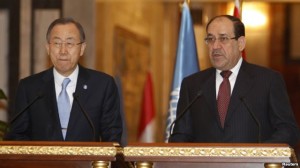 During a visit to Baghdad, UN Secretary-General Ban Ki-moon urged Iraqi leaders to address the root causes of the surge in violence.
He said Iraqi leaders should "ensure that no one is left behind."
Ban said there should be "political cohesion, social cohesion," and an inclusive political dialogue.
Ban's visit comes as Iraq is embroiled in a bloody standoff between government forces and militants and antigovernment tribes in Anbar Province.
RFE/RL's Radio Free Iraq reports that fierce clashes are under way in the provincial capital, Ramadi.
In nearby Fallujah, the headquarters of the local counterterrorism bureau was blown up, as was the home of the police chief.
Fighting was also reported in the Baghdad-Fallujah-Samara triangle.
Maliki rebukes Ban
Iraqi Prime Minister Nuri Al Maliki on Monday publicly rebuked UN Secretary General Ban Ki-moon's call for the country to halt executions while standing beside him at a joint news conference.
Despite widespread calls for a moratorium due to major problems with the country's criminal justice system, Iraq executed at least 169 people last year, its highest such figure since the 2003 US-led invasion, placing it third in the world, behind just China and Iran.
"I have urged the prime minister and Iraqi government to put (a) moratorium on (the) death penalty," Ban said in response to a question during the news conference with Maliki in Baghdad.
But Maliki replied that Iraqis would not accept murderers being allowed to live, and said executions were permitted under the constitution and Islam.
"We respect UN decisions and human rights, but we do not believe that the rights of someone who kills people must be respected," Maliki said.
Iraq has faced widespread criticism from diplomats, analysts and human rights groups who say that due to a problematic justice system, those being executed are not necessarily guilty of the crimes for which they were sentenced to die.
UN human rights chief Navi Pillay said last year that Iraq's criminal justice system was "not functioning adequately".
Erin Evers, Iraq researcher for Human Rights Watch, meanwhile, said last month: "What is more disturbing than the fact of the use of the death penalty itself… is the fact that the utter dysfunction of the criminal justice system means that there is a very high likelihood that the people who are being executed are innocent."
And the US State Department said in its 2012 Human Rights Report that "credible accounts of abuse and torture during arrest and investigation, in pretrial detention, and after conviction, particularly by police and army, were common".
The rise in executions in 2013 came as Iraq grappled with its worst prolonged period of violence since it emerged from brutal sectarian fighting that peaked in 2006 – 2007 and left tens of thousands dead.
And with elections coming up in April and a litany of concerns facing voters, from poor services to high unemployment, politicians will likely seek to focus attention elsewhere while ministers wanting to project toughness could even up the pace of executions.
RFERL/ Times of Oman